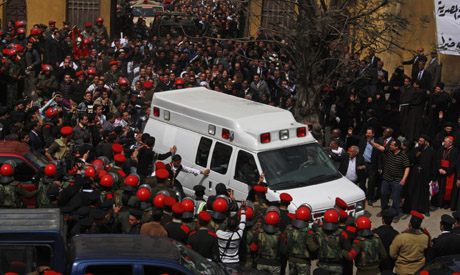 Tens of thousands of mourners are gathering Tuesday in front of St Mark's Cathedral in Abbassiya, Cairo, for the funeral of the Coptic Orthodox Church's leader, Pope Shenouda III who died Saturday at the age of 88.
The service is due to start at 11am as flocks of Egyptian Christians keep heading to the Cathedral. Not all the mourners, however, will be able to bid farewell and recite prayers from inside the prestigious worship house as only 4,000 invitation holders are allowed to get in.
Numerous public figures are attending the funeral, including international guests, politicians and presidential hopefuls.
Military forces are deployed in front of the Cathedral to provide security and maintain order if needed, following the death of three mourners suffocating to death and 137 injured in stampedes since Sunday.
The body of the pope would be buried at of Egypt's St Bishoy Monastery, in line with the late pope's last will and testament. The monastery is situated along the Cairo-Alexandria desert road in northern Egypt's Wadi Al-Natroun region.
Pope Shenouda's body was in full papal regalia on the seat of St Mark since his death but late on Monday the corpse was laid in an open casket.
--------------------
18:48 Things have quieted down at St Bishoy Monastery, the final resting place of Pope Shenouda III. Mourners are still standing outside the masouleum, as handfuls enter inside the burial hall to pay their respects.
18:30 Monks at St Bishoy Monastery have placed the casket in a tomb covered in white lilies.
18:07 Dozens upon dozens of mourners' hands reach out to touch the casket one last time, as monks carry the coffin towards its final resting place. Many mourners are holding tissues and handkerchiefs in their hands as they touch the casket.
18:02 Monks, surrounded by military police, have managed to open the ambulance's door and are taking the coffin into the monastery.
17:34 The ambulance carrying the late patriarch's body and several other cars have arrived in Wadi Al-Natroun, in their last approach to St Bishoy Monastery. Thousands of mourners rush towards the motorcade, blocking the ambulance's path. Military police, trying to maintain order, have surrounded the ambulance. These are moments of pandemonium, as military police along with deacons and altar boys try to secure the ambulances path, fighting off the press of mourners -- now in the several of thousands. The ambulance is inching its way forward.
17:00 The number of mourners has notably increased in the past hour at St Bishoy Monastery. The gathered crowd has formed a human corridor large enough for a car to pass, presumably anticipating the arrival of the late pope. In the interim, hymns and prayers are continually being recited.
16:20 Priests gather around the spot in St Bishoy Monastery, where the late pope will be buried, reciting hymns and prayers. The pope's body is expected to soon arrive. Reports say the military helicopter carrying the casket has already landed four kilometres away from the monastery.
15:25 Several thousands mourners are waiting for the military plane carrying the body of Pope Shenouda III to arrive at St Bishoy Monastery in Wadi Al-Natroun region, where the late patriarch will be laid to rest. Some public figures are among the mourners, such as presidential hopeful Hamdeen Sabahi.
14:00 One of the bishops at St Bishoy Monastery in Wadi Al-Natroun where the Pope Shenouda III is set to be buried told Al-Jazeera TV, "We have nothing for the late Pope but love and appreciation, it was him who established the Monastery and developed it … He was a father, a friend and a true friend."
13:50 Al-Jazeera TV shows live footage of hundreds of Coptic Egyptians waiting for the military plane carrying the body of Pope Shenouda III to arrive at St Bishoy Monastery where the late patriarch will be laid to rest.
13:40 A Coptic student, Mina, 24, said, "I think it is important that Muslims are here at the funeral. Like the Copts we are all here because everyone is sad as the Pope was a good man to all. So they should come and pay their respects."
13:30 "The fact that he refused to go Al-Quds unless the Muslims were allowed, this is enough for us to respect him," Mohamed, a 57-year-old Muslim from Cairo who works as civil service clerk, told Ahram Online.
"I love him because he makes us feel like the Christians and Muslims are truly one. On January 25, 2011, he wasn't saying we are Muslim or Christian, he said we are Egyptian, we shouldn't believe the lies that there is hatred, we shouldn't recognise the lie that there are the differences between us."
13:25 An Ahram Online reporter reports seeing a banner that reads, "Muslims came in millions to respect you Christians."
Hind, a 21-year-old Muslim student who came with her mother Amal, 56-year-old housewife, said, "I am here for the funeral, we are all Egyptians whether we Muslim or Christian, we are all sad. Everyone loved him, he was a good and caring person to Muslim people as well. As a person, he mediated between us all, he was important. We should respect each other."
13:20 Groups of mourners in front of the Cathedral are set to head to the St Bishoy Monastery situated along the Cairo-Alexandria desert road in Wadi Al-Natroun region, northern Egypt, where the body of Pope Shenouda III will be buried.
13:15 The body of pope Shenouda is en route to Almaza military airport in Cairo where it is expected to be flown by a military helicopter to Wadi-Al Natroun where the pope will be laid to. Egyptian state TV showed tens of mourners are waiting there holding up pictures of the late Pope. Security forces are protecting the premises from the crowds of people.
13:06 According to the Twitter account of Bishop Angaelos, the General Bishop of the Coptic Orthodox Church in the United Kingdom, the vehicle that has carried the pope out of the Cathedral is an ambulance.
13:05 The casket carrying the pope's body has left the Catherdral and that crowds of thousands of people are running after the vehicle carrying the Pope's body. The crowds are chanting "Oh, God".
12:55 Al-Jazeera English TV reported that hundreds of mourners are waiting for the pope's body to arrive at St Bishoy Monastery, where the corpse will be buried as per his will. The Monastery is situated along the Cairo-Alexandria desert road in northern Egypt's Wadi Al-Natroun region.
12:50 The casket carrying the body of the late pope has just been carried out of the Cathedral surrounded by crowds trying to touch it for a last time.
12:45 Bishop Grace Bishoy, secretary of the Holy Synod, a potential candidate for the position of the next Pope, also thanked ambassadors who attended the funeral to offer condolences, including those from the US, England, France and Canada as well as representatives from the Vatican.
12:42 Bishop Grace Bishoy thanked Grand Imam of Al-Azhar for sending a delegation from Egypt's official Islamic institution to present condolences to the Cathedral.
12:39 Bishop Grace Bishoy, secretary of the Holy Synod also expressed gratitude for attending to interim Prime Minister Kamal El-Ganzouri, his predecessor Essam Sharaf, Parliament Speaker Mohamed Saad El-Katatni.
12:35 Bishop Grace Bishoy, secretary of the Holy Synod, thanked Field Marshal and de-facto president Hussein Tantawi and Chief of Staff Sami Anan for their condolences' messages to the church.
12:27 Grace Bishoy, secretary of the Holy Synod, is asking those present for silence as he thanks those present for attending, including international governmental figures.
12:25 People inside the Cathedral are devastated as the casket is moving. Interim Pope Pakhomious said: "He is our teacher, we say goodbye to him till we meet in paradise. His departure is really hard … He made a great impact on the [Egyptian] Church and the whole world. We shall never forget what he did to the Church. Words cannot express how painful his demise is."
12:23 People of all ages are visibly devastated and are throwing flowers at his casket.
12:22 The casket is now being carried through the Cathedral by Church figures, while people are shouting out 'We love you, Father.' The casket is moving slowly
12:21 The casket carrying the body of late Pope Shenouda III has been closed for the final time while mourners are stretching their hands to reach it and many people are waving.
12:20 Several priests cannot reach the body of the late Pope, and so are kissing the casket in turn.
12:15 Prayers appear to be close to an end. People inside the cathedral recite hymns while standing up, some are growing emotional. The pope is still in an open casket surrounded by priests holding candles, incense and crosses while reciting chants.
12:10 Several people from Delta and Upper Egyptian governorates traveled to Cairo trying to attend the funeral inside the Cathedral but were unable to enter. They told Ahram Online, "The Pope was a godfather for Copts. We are devastated."
12:08 Bishop Pefnotios of Samalot read out the late Pope's letter, in which he wrote, "I am your father…preserve peace and keep in touch with your loved ones, instigate good deeds and do not let yourselves stray from your way."
12:07 A letter from Pope Shenouda has been read at his funeral by Bishop Pefnotios of Samlot. The late pope meant for it to be read after his death.
12:05 One Coptic mourner told an Ahram Online reporter he was worried about the prospects of an Islamist president, as the late Pope "did everything to protect us as Copts."
11:54 Thousands of men and women watching the screen outside the Cathedral are shedding tears as the prayers are coming to an end, according to an Ahram Online correspondent.
11:52 I came from Assiut yesterday just for the funeral, I tried to see the Pope but they didn't let me in, the crowds were huge. I am so sad, he was a father for us. We don't know how the situation will be for us Copts in the future, we must see who the new president is and what is written in the constitution. If we have a Salafist or an Muslim Brotherhood president this will not be good for us and they may disregard us and our needs. But we have faith that everything is going to be alright,' Ashraf Shukrallah, 38, a Coptic air conditioning unit installer from Assiut in Upper Egypt told Ahram Online.
11:50 Mohamed Saad El-Katatni, speaker of the People's Assembly, is among the attendees.
11:40 Long and mournful tune of Agios is now being sung by Ibrahim Ayad and the chorus, many of whom are tearing up.
11:37 Hamdi Badeen, head of the military police and member of the SCAF, has just entered the Cathedral along with other top military figures.
11:35 An Ahram Online reporter speaks with a 63-year-old woman who is crying because she has failed to get inside the Cathedral like many others. She is praying for Pope Shenouda to let her enter the Church hall.
11:30 Menya Governorate Bishop Arthanious has recited the Pauline Epistle prayers in Coptic and Arabic. Later, leading deacon in the Cathedral Ibrahim Ayad prayed for God to "forgive our sins and have mercy upon our souls."
11:28 I came yesterday from Meniya city, I slept overnight in Cairo. I came all this way because I felt I should attend this funeral, because of my religion, because he was a great man. I am extremely sad, the whole world is sad. He was God's man and the godfather of the Copts; his dealings with politics are extremely important, for everyone, not just for Copts." Mohsin, 50, a Coptic plumber told Ahram Online outside the Cathedral.
11:25 An angry crowd is shouting at deacons supervising organisation, as mourners face closed doors. An Ahram Online reporter confirmed that no physical engagements have taken place but the mourners slam doors, sometimes using stones.
11:22 According to an Ahram Online reporters many outside wave goodbye whenever Baba Shenouda appears on screen.
11:15 Ibrahim Ayad, a leading deacon in the Cathedral, led chanting.
11:12 Official prayers are ongoing in Coptic. A host of some of Egypt's most prominent Deacons are leading prayers for the late pope in Coptic.
11:07 A group of military figures including SCAF member Mahmoud Hegazy have just entered the Cathedral, although all doors had been earlier closed.
11:05 International and Egyptian Catholic and Protestant religious figures are inside the Cathedral among the attendees paying respect to the late pope.
11:00 Military police have closed all the doors of the Cathedral earlier, according to an Ahram Online reporter, and even invitation holders are unable to access the funeral service inside. Many mourners who have come Upper Egyptian governorates such as Qena and Assuit are infuriated and are slamming some of the doors.
10:58 Presidential hopeful and former Mubarak prime minister Ahmed Shafiq is at the church attending the mass for the late Pope Shenouda III.
10:55 Presidential hopeful and Judge Hisham El-Bastawisy, Chairman of Wafd Party Sayed Badawy,Wafd party leading figure Fouad Badrawy and Islamic preacher Amr Khaled are among the attendees inside the Cathedral, as well as some members of the ruling Supreme Council of the Armed Forces (SCAF) and Islamic scholars from Al-Azhar.
10:50 Egyptian Bishop Pakhomious of Beheira is now leading the prayers for the late Pope.
10:48 An Ahram Online reporter describe near the Cathedral says many mourners who failed to enter the church are holding placards bearing photos of the Pope and shedding tears. Outside the Cathedral, there is a large screen on which mourners can watch the funeral.
10:47 'He was like a father for us, he lives with us and we live with him. He teaches us how to believe in God and how to be good Christians. He touched not only people in Egypt but people from outside Egypt too; today people came from all over the world to pay their respects, Christian or not. The Church has given people peace and spirit; I believe the new pope will have the same spirit to continue Pope Shenouda's work,' Abraham, a Coptic priest at a church in Ain Shams suburb of Cairo, told Ahram Online.
10:46 An Ahram Online reporter spotted veteran Egyptian actress Elham Shaheen outside the cathedral. The actress and many others have failed to enter the church.
10:45 Presidential hopeful Abdel Monem Abul Fotouh is among the attendees at the Cathedral.
10:40 The Syrian Orthodox Church delegation, headed by Mar Ignatious Zakka, took its turn to pray for Pope Shenouda III. The prayers at the moment are being performed by guests, while the official prayers are yet to start and will be performed by the Egyptian Church.
10:38 "We are devastated, for 40 years he was doing the right thing for Egypt and for the Coptic community. He knew how to mediate between Muslims and Christians. Even internationally he was always good with the people. There was lots of pressure on him, but he always came through. Egypt is a place that lives inside us not a place where we live. His most famous words were 'God is here, everything should be goodness and everything will end well.'" Samra, 65, Shubra, Copt, retired clerk at the ministry of justice told Ahram Online.
10: 35 Many of the doors of the Cathedral are closed according to Ahram Online reporters to avoid stampedes and organise the crowd as the numbers are estimated at hundreds of thousands. The son of late president Gamal Abdel-Nasser, Abdel Hakim, is among the attendees inside. Coptic business tycoon Naguib Sawiris is sitting in the front row next to the casket.
10:30 According to an Ahram Online reporter, all main streets have been blocked by military and police forces who are only allowing invitation holders to pass. Those without invitations will have to take detours to reach the cathedral.
10:20 Guest Prayers are underway in the cathedral as Pope Shenouda III's body lie in an open casket. Patriarch of the Ethiopian Orthodox Church is giving a speech to bid farewell for his late counterpart. He said Shenouda is sitting with the angels and is praying for us.
10:10 Inside the Cathedral, thousands of politicians religious leaders and public figures are paying respect to the late Pope as hymns are being recited. Prime Minister Kamal El-Ganzouri, his predecessor Essam Sharaf, Coptic big screen star Hany Ramzy, Islamic preacher Amr Khlaed and Tourism Minister Mounir Fakri Abdel are among the attendees.