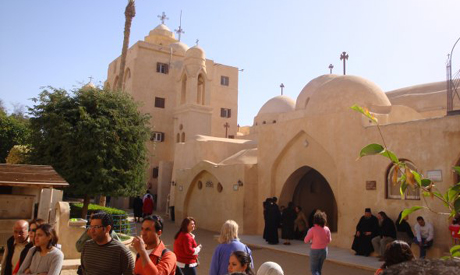 The Coptic Orthodox Church of Alexandria on Sunday announced that the body of Pope Shenouda III would be buried within the precincts of Egypt's St Bishoy Monastery, in line with the late pope's last will and testament. The monastery is situated along the Cairo-Alexandria road in northern Egypt's Wadi Al-Natroun region.
Field Marshal Mohamed Tantawi, head of Egypt's ruling military council, announced that the armed forces had assigned a military plane to transport the pope's body to the monastery from St Mark's Cathedral in Cairo following his funeral on Tuesday.
The St Bishoy Monastery was founded in the 4th century AD by Coptic Bishop Bishoy to be used as a compound for Coptic monks who sought to pray and meditate in the desert. The monastery includes five churches, a papal residence and cells for the monks.
The monastery played an important role in the life of Shenouda, who would occasionally retreat to the desert sanctuary to express dissatisfaction with Egypt's temporal rulers.
He was staying at the monastery when he was first informed of his election as pope of the Coptic Orthodox Church in 1971. Ten years later, he was placed under house arrest within the monastery's walls following disagreements with then president Anwar Sadat over relations with Israel and the rise of Egyptian Islamist movements.
After four years of confinement to the monastery, Shenouda's full papal authority was finally restored in 1985 by then president Hosni Mubarak.
The last time Shenouda was moved to retreat to the monastery was in the wake of the New Year's Eve bombing of Alexandria's Two Saints Church in late 2010, when he cloistered himself within the desert hermitage to show his displeasure with the Mubarak regime's handling of the attack.
Shenouda, the 117th patriarch of the Coptic Orthodox Church of Alexandria, died on Saturday, 17 March, at the age of 88 following protracted battles with a number of illnesses.
Since Sunday, tens of thousands of Egyptians have flocked to take a final look at the late pope on his papal seat in Cairo's Cathedral of St Mark. Hundreds of thousands are expected to attend his funeral on Tuesday.