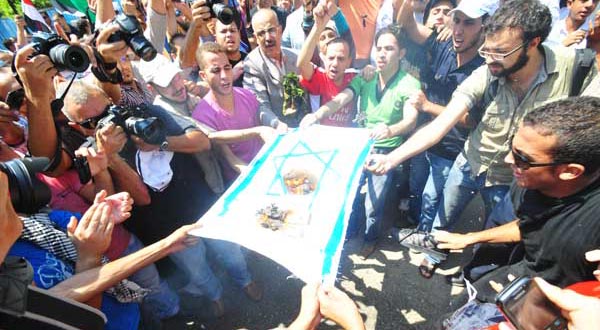 CAIRO: Around 300 people protested in front of the Israeli embassy in Cairo after Friday prayers, calling on the ruling military council to expel the Israeli ambassador in response to what they said was a deliberate attack on Sinai.
"We want a reaction to teach Israel to keep away from our lands," said Israa Salama, a 21-year-old student at Al-Azhar University who came to the protest with no invitation from any political group.
A similar protest was held at the Israeli consulate in Alexandria.
Security sources said that five policemen, including an officer, were killed on the previous day as Israeli and Egyptian troops combed the border area following attacks in Israel that killed eight.
Egypt lodged a formal protest to Israel over the death of members of its security forces, and demanded an investigation into the deaths, an Egyptian army official told Reuters.
"I came here and I feel that this is a game by the military council to divert our thoughts from our calls for a civil state," Taha Hussein, 23, said.
A group of protesters said the Egypt's dignity will depend on its response to Israel.
"Turkey expelled the Israeli ambassador because of the flotilla, Egyptians' blood is not cheaper than that of the Turkish," said Fathi Ahmed Hussein, head of the Labor Party, who was sent to military court after traveling to Gaza a few years ago.
Noha Salama, an activist, said they are not only calling on Egypt's military to protect the borders, but also to work towards easing Palestinian suffering and taking action against Israel.
Protesters called for halting gas exports to Israel and ending the Camp David accords.