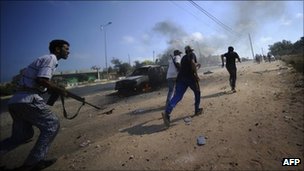 Buoyed by gains on Saturday, rebel forces are pushing towards the Libyan capital, Tripoli, where there was heavy overnight gunfire and several explosions on Sunday morning.
A BBC correspondent with rebels who took Zawiya on Saturday says they have now taken Jaddayim, the first town en route to Tripoli, 40km (25 miles) east.
Earlier, Col Muammar Gaddafi told state TV that the "rats" [rebels] had been eliminated in the capital.
Rebels are moving on two other fronts.
They took Zlitan, 160km (100 miles) east of Tripoli and are also advancing from the south, while Nato warships control access to the sea.
A rebel official said their supporters had started to rise up in Tripoli, but the violence appeared to peak late on Saturday night and there is still much support for Col Gaddafi in the city, correspondents say.
Pro-Gaddafi forces have been fighting back at the oil port of Brega, with the rebels admitting that they had fallen back from the eastern town's industrial zone under heavy bombardment.
'Massacres'
Col Gaddafi's Information Minister Moussa Ibrahim has accused Nato of going "mad" and seeking regime change.
"Nato in the last week or so... has been opening the roads ahead of the rebels who are too weak to do anything themselves," he told a news conference in Tripoli.
He also accused the rebel forces of carrying out "massacres" and killing people in the streets of those towns and villages they had seized in recent days.
"Tripoli is well protected by thousands of professional soldiers," he said.
The BBC's Rupert Wingfield-Hayes in Jaddayim says hundreds of rebel fighters are in the town, both on foot and travelling in pick-up trucks. He says the town was taken after heavy fighting on Sunday morning.
Our correspondent says this is starting to feel like this may be the beginning of the march on Tripoli. This rebel advance seems to have more momentum than previous ones and has more support from Nato forces, he adds.
"We want to go to Tripoli today," one of the fighters, Bassam, told the AFP news agency, adding that Nato forces had been attacking the area's forest all night.
However, a fighter who returned from the front line to Zawiya said that pro-Gaddafi forces were pounding rebel positions with rockets and mortars.
In the capital itself, four loud explosions were heard on Sunday morning following hours of sustained gunfire in the city.
There were overnight reports of protests and gunfire in areas to the north and east of Tripoli, including the Tajoura district, where there was trouble at the start of this uprising against Col Gaddafi, the BBC's Matthew Price reports from the capital.
The most intense period of fighting came at around 11pm but the level of gunfire was much reduced by Sunday morning, our correspondent says.
The overnight fighting was almost certainly opponents of Col Gaddafi already in scattered parts of Tripoli rising up against pro-Gaddafi forces, rather than rebel forces advancing into the capital, our correspondent adds.
Abdel Hafiz Ghoga, vice-chairman of the rebel Transitional National Council (TNC), was quoted as saying by Reuters news agency: "The zero hour has started. The rebels in Tripoli have risen up."
He said the uprising had been co-ordinated with rebels forces elsewhere in the country.
But government officials say the attack was put down within half an hour.
In an audio broadcast shortly afterwards, Col Gaddafi congratulated his supporters for repelling the rebels.
"Those rats were attacked by the masses tonight and we eliminated them," he said.
His son, Saif al-Islam, ruled out any possibility of surrender.
"I see ourselves as victorious, I see our position is strong," he said in a speech on state TV.
He did, however, urge the rebels to open talks.
"If you want peace, we are ready," he said.
The Libyan leader certainly has support in Tripoli, our correspondent says.
Pro-Gaddafi men and women have received weapons training in recent weeks, while checkpoints have sprung up across the city.
A Tripoli resident told Reuters that Muslim clerics had called for people to rise up in parts of the Libyan capital.
The resident said the imams made the call as Muslims were breaking their daytime fast during the holy month of Ramadan on Saturday evening.
In his audio message, Col Gaddafi condemned "traitors" who were "defiling mosques" in the mainly Muslim country.
'Defections'
Rebel military spokesman Col Ahmed Bani confirmed that rebel forces had fallen back in the eastern oil port of Brega.
Brega, home to Libya's second-largest hydrocarbon complex and where oil from the country's main fields is refined, has repeatedly changed hands during the six-month conflict.
Col Bani said the rebel forces had pulled back after coming under artillery fire.
Libya's conflict broke out in February, inspired by uprisings in Tunisia and Egypt which toppled the presidents of those countries.
Rebels in the east rapidly consolidated their gains, but a stalemate developed in the west as rebels there faced overwhelming military force.
Nato is enforcing a UN resolution to protect civilians from Col Gaddafi's forces but critics say it has overstepped its mandate by helping the rebels.