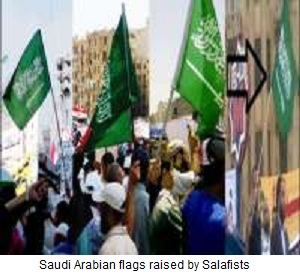 (AINA) -- The worst fears of many Egyptians and non-Muslims were realized today when Islamists hijacked today's million-man sit-in at Tahrir Square. The planned sit-in was intended to be a form of pressure to achieve the demands of the revolution, mainly cleansing from corruption, freedom and social justice, as well as reuniting the revolutionary groups.
"Over three days a series meetings were held between representatives of several political and Islamist groups to unify all people attending the sit-in in Tahrir Square on July 29, in order to achieve the demands of the revolution, "demands that unify not splinter," said Dr. Amr Hamzawi, founder of Masr el Horreya, party " and leave everything else like the constitution, or elections for a later date." The sit-in was named "Friday of Popular Will and Unification" instead of "Sharia Friday" as Salafists wanted. It was also agreed that no sectarian or religious slogans or chanting was to be used, and all parties signed the statement to adhere to these terms. "We were surprised to find that the Muslim Brotherhood and the Salafists did not adhere to the agreements, and they intimidated other liberal groups," Hamzawi added.
Tens of thousands of Salafists and other Islamic factions came in buses from all Egyptian provinces.
From their podium, one of twelve erected in the Square, Salafists called for the creation of an Islamic State in Egypt, and the application of Sharia Law. They chanted and raised posters with "Islamic, Islamic, Egypt will remain Islamic against all secularists wishes" and "The people want Allah's Sharia," and "There is no god but Allah -- Koran is our constitution."
One of their favored chants was one addressed to the US President: "Obama, Obama---We are all Osama." A large poster was erected in the Square with photos of Al Qaida's Bin Laden, Hamas Shaikh Ahmad Yassin, Libyan fighter Omar Mukhtar, the founder of the Muslim Brotherhood Hassan al-Banna, the former Brotherhood hero who was executed by President Nasser, Sayyid Qutb and Shaikh Omar Abdel Rahman, who is being held in a U.S. prison. Under the photos was written , "May Allah rest your souls in peace" and "You are in our hearts, we will never forget you."
Hundreds of Saudi Arabian flags were raised by Islamists and others were sold by vendors. "Tahrir Square has been transformed into Islamabad," commented one participant.
Skirmishes between other participants took place. Salafists wanted the Copts from the Maspero Coptic Youth out of the Square. "They came to us and asked us to remove our tent," said volunteer Dr. Sonia, "which has been here since July 7. We refused and one of the Coptic doctors who is serving as a first-aid doctor in the tent spoke to them politely, so other people rebuked the Salafists. However, the prayers session which Copts usually have after Friday prayers was cancelled."
It was also reported that many participants were ousted from the sit-in by Salafists, who chanted "There is no god but Allah, the secularist is the enemy of Allah." They pelted the podium of the Muslim Brotherhood Youth with oranges because they played nationalistic songs and they wanted the Koran to be chanted.
One angry Coptic priests, wrapped in the Egyptian flag, was interviewed by Al Jezeerah TV on the MB podium. He criticized the Muslim Brotherhood for not keeping to the agreement. "We are here to demand social justice and democracy, and these [Islamic] slogans should disappear," said father Botros Eweida. "We are here for Egypt, there is no Muslim, Christian, Muslim Brotherhood or Salafist, only Egyptians. This is against our agreement. We agreed on Egypt only."
Dr. Naguib Ghobraeel, President of Egyptian Union for Human Rights, issued a statement rejecting today's Islamists slogans, which he says "splinter and fragment Egyptians" and are sectarian slogans, which lead to conflicts between the political forces in Egypt. He also criticized the chant "not Eastern or Western -- Egypt is an Islamic State" As well as inscribing Islamic verses on the Egyptian flag, which transforms the revolution into an Islamic one."
In the afternoon, 28 parties and coalitions pulled out from Tahrir Square, angered by what they are calling the Islamists' hijacking of the protests with their own demands, and have not kept to the agreements.
Magdi el-Gallad, editor in chief of Al Masry Al Youm, described today's events as "a quarrel over a legacy, a quarrel over political gains, a quarrel over the body of Egypt."