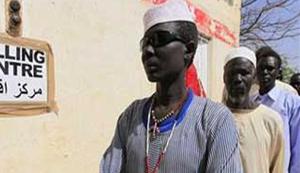 As the world warmly embraces South Sudan as the newest member of the global community, Egypt is not expected to give more than lukewarm wave from afar.
For years the Egyptian establishment has seemed bitter that its initiative - centered around maintaining the unity of the Sudan, was developed jointly with the Libyans and peddled by the Arab League - was passed on by Sudanese parties at peace talks in the early 2000s in favour of the US-backed IGAD initiative which had at its core the right of self-determination for the Southern Sudanese.
While the merits of each initiative can be debated at length, as well as the intention of the late rebel leader-turned-vice president John Garang de Mabior to establish an egalitarian 'New Sudan' rather than splitting the country in two, the reality we must deal with is that we have a new neighbur to the south. Discussions of what could have been are long past.
Apathy, silent observation and sulking as events pass us by - the tenants of Egypt's African foreign policy - are no longer an option. This is particularly true for South Sudan: it is not just that its geostrategic importance is immense, if only for being a Nile upstream country, but because we have a unique once-in-a-lifetime opportunity to set the parameters of our relationship with the nascent state. It is an opportunity not to be wasted.
I have visited South Sudan a number of times, first for research purposes as an economist specializing in post-conflict nations, and most recently as an international elections observer to the referendum in which, exactly six months ago, the southern Sudanese people vote overwhelmingly in favor of independence.
I have also come to observe Egyptian public diplomacy efforts in South Sudan - and they are quite feeble. An Egyptian clinic, staffed by Egyptian doctors recognized for their skills, is essentially it. While a good step, it is insufficient to win the hearts and minds of our new upstream neighbors, who often view Egypt through the prism of its close relationship to Khartoum. Effectively then, we start with a handicap as we attempt to build links to South Sudan.
Aside from the classic recommendations in such cases - technical assistance and capacity building, as well as bilateral and multilateral cooperation mechanisms via the Arab League and other bodies - we have a number of paths to Juba we can pursue.
The large South Sudanese community in Egypt, whose members mostly reached our country as refugees (a status they have struggled, and many still struggle, to have recognized), would be a unique first bridge to build the relationship. The South Sudanese community, which turned out widely to vote for their country's self-determination in the polling stations set up in Egypt, has shown itself to be integrated in and eager to take part in the new nation's future.
Here again, Egypt's State Security apparatus, by killing a number of southern Sudanese during a sit-in in front of Cairo's Mostafa Mahmoud mosque in December 2004, poisoned Egyptian-South Sudanese relations; nevertheless, a new, revolutionary Egypt could be in an excellent position to rebuild those links.
Decades ago, Cairo was a privileged education destination for many southern Sudanese - who came on their family's dime or via missionary missions. At least four of the current cabinet members in Juba, in fact, are graduates of Egyptian schools and universities. They, and many others in the southern Sudanese intelligentsia, hold fond memories of their time in Egypt; I have heard many a tale, from a civil servant or from a school principal, about a professor or a school event. The tales almost invariably end in laughter, followed by a few seconds of nostalgic reverie. Ties with those "Egypt alumni" need to be revived and this nostalgia rekindled.
Egypt also ought to capitalize on the unique knowledge that some of its citizens have of South Sudan. From young diplomats of the South Sudan Assessment and Evaluation Commission, a high level international diplomatic body which aims at addressing the principal legal, economic and political problems of the new country, to the political scientists and economists of the African Research Center at Cairo University, Egypt's academics and practitioners are uniquely positioned not only to feed Egypt with an accurate image of facts of the ground, but also to offer results, recommendations and results to the South Sudanese authorities.
The splitting of the Sudan can legitimately be viewed as a tragedy. But it can also be viewed as a fresh beginning between Egyptians and South Sudanese, as well as their new governments with popular mandates. Let 9 July be a symbol of success and opportunity, not loss and failure.