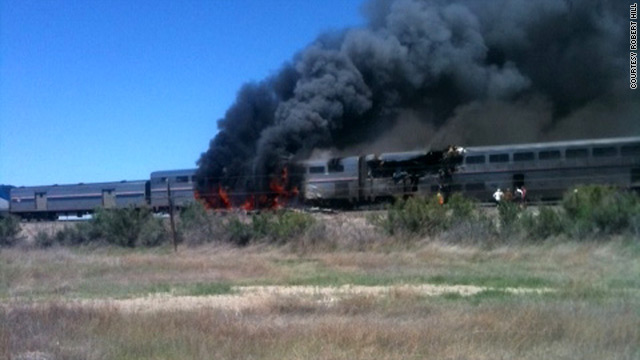 (CNN) -- Six people were killed when a tractor-trailer truck slammed into a Chicago-to-California Amtrak passenger train at a railroad crossing east of Reno, Nevada, authorities said late Saturday.
The death toll was released just as federal authorities said they were trying to account for passengers missing from the passenger train that was struck Friday at a railroad crossing near Lovelock, Nevada.
"No names are being released pending positive identification and notification of families," the Churchill County, Nevada, sheriff's department said in a written statement.
The National Transportation Safety Board, which is investigating, is trying to account for passengers listed on the manifest but not located after the crash, Earl Weener of the NTSB told reporters during a news conference late Saturday night in Sparks, Nevada.
In some cases, it is believed people got off the train earlier or bought a ticket but did not take the train, he said.
"There are a number of reasons that the manifest and that number don't jibe," Weener said.
The 10-car train, which was on its way to Emeryville, California, was carrying 204 passengers and 14 crew members, Amtrak said in a statement released Friday.
It was not immediately clear how many people were injured. Amtrak said that numerous people aboard the train had been taken to area hospitals for treatment.
Amateur video taken after the crash showed huge plumes of black smoke billowing from the train as a fire burned. Passengers and crew members stood outside.
One voice on the video can be heard telling people to get away from the smoke. Another tells a woman, out of view, to "hang and jump." A third voice asks someone, "Are you OK?"
"Next thing I know, we get hit by something. A big ball of fire comes in. I jumped out the window," passenger Justin Rhine told CNN affiliate KOLO-TV in Reno. "I saw people flying on the other side of the train."
Skid marks show the driver of the truck slammed on his brakes, sliding more than 300 feet before hitting the train, sparking a fire, Weener said. The fire burned the truck and two train cars, he said.
The initial investigation found the signal light and crossing guard arms were working, and that there was good visibility of the train tracks from the road, he said.
The truck was the lead in a three-truck convoy as it approached the train tracks, Weener said.
The two following saw the train signal and slowed to stop, "waiting for him to come to stop," he said.
Though the driver of the truck has not been identified, Weener said the truck belonged to John Davies Trucking of Battle Mountain, Nevada.
The trucking company, which advertises itself as family-owned business that hauls concrete, did not immediately respond to a CNN request for comment.