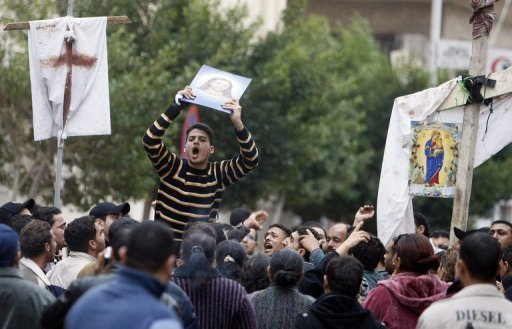 Maronite Patriarch Beshara Rai said Sunday that Christians in the Middle East were at all times the victims of conflicts and disputes which others provoke.
Addressing believers at the seat of the patriarchate in Bkirki, Rai prayed for God to safeguard people in the Middle East and help Christians in particular to overcome difficulties. "Christians have always been the victims of conflicts and disputes just because [of their religious identity] despite the fact that they are innocent. We ask God to help them and give a meaning to their difficult life," Rai said addressing members of the "Christ is my Joy" foundation.
Rai voiced hope that Lebanon would surmount the problems and crises it is facing, which raise serious concerns among its population.
The patriarch had concluded Saturday a two-day tour to the north Lebanon town of Zghorta, where he met with political figures from both the March 14 and March 8 camps at the Mar Maroun Church in the Aqaba area.
On his first visit to the town since succeeding Cardinal Nasrallah Butros Sfeir in March, Rai called on political leaders to overcome the past and preserve state institutions as the sole guarantee to the Lebanese people.
"We are against mini-states because only the state is [a] symbol of our unity," Rai said, adding that the Lebanese should act as a model for coexistence in the Middle East to safeguard the country and region from strife.
Rai, who met with delegations of the Marada Movement and its ally, the Free Patriotic Movement, as well as their political rivals in the Lebanese Forces and former MP Michel Mouawad's Independence Movement, had expressed Friday his support for political differences. However, he added that such differences should not be allowed to harm the interest of national unity.
His visit to Zghorta comes just days before the second gathering of high-profile Christian political leaders in Bkirki on June 2.
Rai hosted the first gathering in April, urging Christian political leaders to focus on matters of mutual concern for Lebanon's Christian community.
While April's meeting brought together only four key leaders, the gathering in June is expected to include a number of Christian lawmakers in addition to FPM leader Michel Aoun, Kataeb (Phalange) Party leader Amin Gemayel, LF leader Samir Geagea and Marada Movement head Sleiman Franjieh.
The second gathering of Christian political leaders will focus on the need to boost the president's prerogatives, as well as follow up on issues from the first meeting, sources close to the church have said.
April's touch-base meeting focused on efforts to increase the inclusion of Christians in state administrative positions, as well as reduce large-scale sales of property and land to non-Christians.