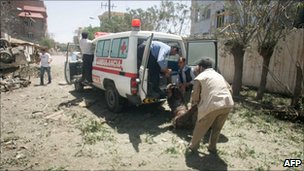 A suicide bomber has attacked the compound of a Nato-led reconstruction team in western Afghanistan, killing at least two people, officials say.
Several others were wounded in the assault on the Italian-led Provincial Reconstruction Team (PRT) base in the city of Herat.
A second blast was also reported elsewhere in the city, while witnesses said they heard gunfire at the site.
The Taliban recently declared a "spring offensive" of attacks in Afghanistan.
"At this stage, initial reports say that there has been an attack in the vicinity of the Herat PRT compound," a spokesman for the Nato-led International Security Assistance Force said from Kabul.
Television pictures from Herat showed at least two vehicles destroyed and troops scurrying for cover, Reuters news agency reported.