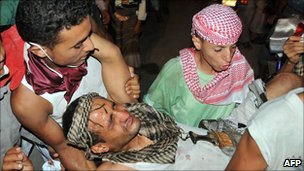 Security forces in Yemen have shot dead at least 20 anti-government protesters in the southern city of Taiz, medics and organisers say.
Soldiers reportedly moved in to end a four-month-old sit-in in the city.
Meanwhile, four Yemeni soldiers have been killed in an apparent ambush near the city of Zinjibar, reportedly held by al-Qaeda fighters, officials say.
President Ali Abdullah Saleh refuses to step down despite months of protests and strong opposition from a key tribe.
Taiz was one of the first cities in Yemen where demonstrators - inspired by popular uprisings in Tunisia and Egypt - chose to gather.
A doctor in the city, Abdulkadir al-Gunaid, told the BBC that security forces were erasing all traces of the protests in Freedom Square.
"They attacked, shot at people, burned their tents. The square had a big stage to make speeches and to make plays and songs, loudspeakers and this sort of thing. And countless numbers of tents and a gallery for art. And it is a magnet for every big event."
He added: "They killed them [protesters]... and at 3am they brought bulldozers and finished it all. There is nothing there, they are even cleaning it so no-one can guess that there was anything like that before."
A protest organiser told AFP that security forces backed by army and Republican Guard troops drove the demonstrators out.
"At least 20 protesters have been killed," the organiser said.
Earlier reports quoting witnesses and doctors said security forces attacked protesters with rifles and water cannon and set fire to their camp.
Sadek al-Shugaa, head of a field hospital at the protest camp, was quoted by AP news agency as saying soldiers fired into the crowds indiscriminately.
'Al-Qaeda ambush'
In Zinjibar, security officials said the soldiers died when their convoy came under attack.
"A convoy of reinforcements fell in an ambush by al-Qaeda elements 1km from Zinjibar. Four soldiers, including a colonel, were killed and a number of others were wounded," the security official said.
Government reports from Zinjibar suggested the town had been seized some days ago by gunmen from al-Qaeda in the Arabian Peninsula (AQAP).
A battle has reportedly been going on since as forces loyal to President Saleh try to take it back.
However, there are conflicting accounts of the loyalties of the armed men.
The government has blamed previous attacks in southern Yemen on al-Qaeda, but the country's opposition has accused President Saleh of stoking fears of an Islamist takeover.
The opposition coalition Common Forum said Mr Saleh had "delivered Zinjibar to groups that he has formed and armed, to continue to utilise the spectre of al-Qaeda to frighten regional and international parties".
On Sunday, President Saleh and the country's most powerful tribal leader agreed a ceasefire after five days of fighting in the capital Sanaa, a mediator said.
More than 100 people have died in clashes between forces loyal to Hashid leader Sheikh Sadiq al-Ahmar and President Saleh.
The fighting had threatened to push Yemen into civil war.