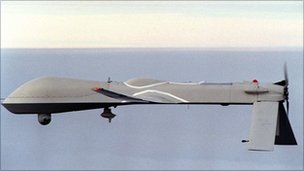 The US military has confirmed the first strike by an unmanned Predator drone aircraft in Libya.
The Pentagon did not provide details of the target, but said that it occurred in the early afternoon local time.
Drones can hit military targets more easily in urban areas, minimising the risk of civilian casualties.
Earlier, Libya's government warned that tribes loyal to Col Muammar Gaddafi might take over the fight against the rebels in the western city of Misrata.
Deputy Foreign Minister Khaled Kaim said the Libyan army was being withdrawn and suggested that the tribes would not show the same level of restraint over civilian casualties.
But a rebel military spokesman in Benghazi said Col Gaddafi was "playing games" and would not allow his forces to leave Misrata.
Human rights groups say more than 1,000 people have died there.
Before Saturday's strike, two US Predators were already being used above Libya for intelligence, surveillance and reconnaissance missions.
On Thursday, Defence Secretary Robert Gates said President Barack Obama had approved air strikes in support of the Nato-led mission because that was where the US had "some unique capabilities".
Gen James Cartwright, the vice-chairman of the US Joint Chiefs of Staff, said forces loyal to Col Gaddafi were digging in or "nestling up against crowded areas" to avoid being targeted by Nato warplanes.
The more precise Predators bring "their ability to get down lower and therefore, to be able to get better visibility, particularly on targets that have started to dig themselves into defensive positions," he added.