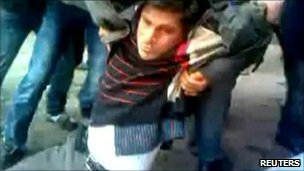 Security forces in Syria have shot dead at least six people at funerals for anti-government protesters killed on Friday, reports say.
They opened fire on mourners gathering in a suburb of the capital Damascus and near the flash-point southern town of Deraa, witnesses said.
At least 72 people reportedly died on Friday, the bloodiest day in some five weeks of unrest.
Two MPs from Deraa have resigned in protest at the violence.
Friday's bloodshed, which came a day after President Bashar al-Assad scrapped decades of emergency rule, drew strong international condemnation.
Syria's state news agency has reported a limited number of protests in some provinces and described the violence as the work of armed criminal gangs.
With foreign journalists unable to get into Syria, accounts of casualties - carried by eyewitnesses, opposition activists and human rights groups - cannot be verified independently.
The BBC's Owen Bennett-Jones in Beirut says it appears that the government has made a deliberate decision to use live ammunition, to clear the streets and to impose order.
With many people in Syria now openly calling for an end to President Assad's rule, he says the government realises its survival is at stake and it is fighting hard.
'Down with the slaughterer'
Tens of thousands of mourners were said to be attending Saturday's funerals.
Security forces reportedly fired on mourners travelling to funerals in the village of Ezra, near Deraa, in an effort to prevent them from attending.
"There was heavy volley of gunfire in our direction as we approached Ezra to join the funerals of martyrs," one witness said.
A witness in Ezra told Reuters news agency by telephone: "Long live Syria. Down with the slaughterer Bashar al-Assad, the traitor of Syria."
More than 150 buses had left Deraa to attend funerals for 18 victims in Ezra and other villages, AFP news agency reports.
In the Damascus suburb of Douma, snipers reportedly shot dead at least three people, and there are reports of a fatal shooting in another part of the capital, Barzeh, where clerics used mosque loudspeakers to appeal for doctors to help the wounded.
Funerals were also expected in the Damascus district of Midan and in Harasta, north of the capital.
Human rights groups and activists gave death tolls for Friday ranging from 72 to more than 90, and one group said the death toll could reach 100.
Many of the deaths were reported to have occurred in Ezra and Douma as well as the central city of Homs.
One of the resigning MPs, Naser al-Hariri, told al-Jazeera TV: "After I have failed to protect my sons from the treacherous shots there is no point in me staying in parliament.
"I announce now that I am stepping down."
The second MP, Khalil al-Rifaei, said he could not "protect the people who brought me to parliament", and urged President Assad to intervene to stop the violence.
Call for investigation
US President Barack Obama joined a chorus of international condemnation of Friday's attacks on protesters, calling for an end to the "outrageous use of violence to quell protests".
An unnamed Syrian official rejected criticism by Mr Obama, telling the Syrian state news agency Sana it was "not based on an objective vision of the reality on the ground".
UK Foreign Secretary William Hague said the killing of demonstrators by the Syrian security forces was unacceptable while UN Secretary General Ban Ki-moon has called for an independent investigation into deaths, and France said it was "extremely concerned" by the violence.
Sana said security forces had only used tear gas and water cannon to prevent clashes on Friday.
It said the army had found digital cameras containing short, fabricated videos depicting fake repression, and that armed gangs were carrying bottles of blood to be used in making fake films.