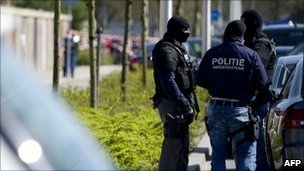 A gunman in the Netherlands killed five people and wounded 11 before taking his own life, officials say.
The killings took place at a busy shopping centre in the town of Alphen aan den Rijn, about 25km (15 miles) south-west of Amsterdam.
The mayor of the town said the man opened fire with an automatic weapon and then shot himself.
The gunman has not been formally identified and no explanation for the shooting has been reported.
Dutch media quoted witnesses who said the man had blond hair and was about 25 years old. He was described as wearing a leather jacket and camouflage pattern trousers.
Panic
Mayor Bas Eenhoorn called the incident "unprecedented" for the town of about 70,000 people.
He said four of the injured were in a critical condition and five had serious wounds.
"A man with an automatic weapon, whose identity we cannot reveal, started shooting and killed five people and then himself," the mayor said.
"It's hardly credible that our town could experience such slaughter, and on a day as beautiful as this," he said.
A shopkeeper in the Ridderhof centre said the gunman appeared to be shooting people at random.
"There was a panic in the mall, a lot of people running," the shopkeeper, Maart Verbeek, told Dutch broadcaster NOS.
"I see the attacker coming, walking, and I go inside the store... and I see him going by with a big machine gun."
A resident told the BBC the shooting was unusual, despite being the second in the area this month.
"It's weird that something like this has happened in this neighbourhood. Usually nothing ever happens here. But this is the second shooting in two weeks," said Thomas Aantjes.
Two people were killed on 2 April in a shooting in the same district of the town. Officials have not made a link between the two incidents.