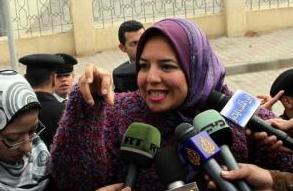 CAIRO (Updated) -A lawyer for an Egyptian man, accused of spying for Israel, on Saturday quit defending him, saying he is a traitor.
Lawyer Esmat Talaat surprised everyone inside the building of the Emergency Higher State Security Court on the outskirts of Cairo when she said she would stop defending Tareq Abdel Razeq, a businessman facing charges of espionage.
"He is a traitor and cannot defend him," she said a few minutes after the start of the trial amid tight security measures.
Abdel Razeq, an Egyptian businessman, was arrested last August on suspicion of spying for Israel. Two Israeli agents are being tried in absentia in the same case
The court Saturday ordered the trial hearings be postponed until Monday to recruit a ndew defence lawyer for the Egyptian defendant. Abdel Razeq is also accused of trying to recruit spies in Lebanon and Syria.
Egypt was the first Arab country to sign a peace treaty with Israel in 1979. But anti-Israel sentiment feelings run high due to its anti-peace policy.