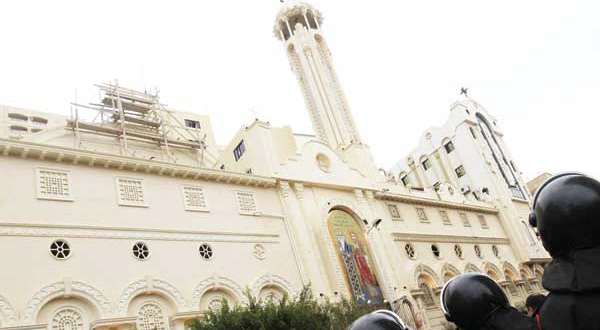 CAIRO: Forensic and criminal evidence teams are set to present their final reports regarding the New Year's Eve attack on Al-Qeddesine (Church of the Two Saints) in Alexandria to the General Prosecutor this Thursday.
The forensic reports will be compared with witnesses' testimonies to determine how the attack was executed.
The investigation team questioned 85 witnesses and examined various body parts that were recently found in both a side street next to the church as well as on the rooftop of a nearby mosque.
The body parts, found 10 days after the attack, were mainly comprised of bones and fingers of bombing victims. The parts were collected to undergo DNA testing.
All body parts found at the attack scene, as well as the solid masses found within them, were reexamined to identify the weight of the bomb, how it exploded, where it fell, its material composition, and to evaluate the size and direction of the resulting explosion.
Al-Masry Al-Youm daily newspaper quoted an anonymous security official who stated that an electric circuit used in the attack was found on the church's rooftop near the recently discovered half-face of the alleged perpetrator.
Meanwhile, General Prosecutor Abdel Meguid Mahmoud denied press reports that stated the investigators have identified the perpetrator behind the attack.
East Alexandria's prosecution said that there is no "real eye witness" of the attack, as all the attack victims said that they heard the bombing and didn't feel anything until they reached the hospital.
The Ministry of Interior published a sketch of the suspect based on the remains found, after which a number of Salafi group members were arrested for interrogation.
The attack on the Church of the Two Saints killed 23 people and injured more than 90 others.