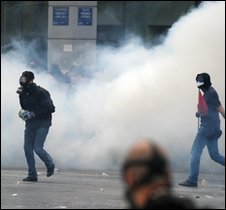 At least three people have been killed in the Greek capital as protesters set fire to a bank during a general strike over planned austerity measures.
The fire brigade said three bodies were found inside the bank in Athens. Another building is also on fire.
Petrol bombs were thrown at police who responded with pepper spray, tear gas and stun grenades.
Protesters are angered by spending cuts and tax rises planned in return for a 110bn euro (£95bn) bail-out for Greece.
Parliament is to vote on the measures by the end of the week.
Measures include wage freezes, pension cuts and tax rises. They aim to achieve fresh budget cuts of 30bn euros over three years, with the goal of cutting Greece's public deficit to less than 3% of GDP by 2014. It currently stands at 13.6%.
A mass rally attended by thousands of people took place in central Athens before some protests began to turn violent
Outside parliament, a group of protesters rushed up a flight of steps, taunting MPs to come out and calling them "thieves".
Riot police forced them back with pepper spray, tear gas and stun grenades.
The general strike is the third to hit Greece in as many months.
Meanwhile, the German parliament has begun considering the bail-out plan for Greece.
Chancellor Angela Merkel urged MPs to back the emergency loan package agreed by European finance ministers at the weekend.
It requires Germany to pay the largest proportion of the loans.
"Quite simply, Europe's future is at stake," she said.
The EU has agreed to provide 80bn euros (£69bn) in funding - of which around 22bn euros would come from Germany - while the rest will come from the International Monetary Fund (IMF).
Flights in and out of Greece stopped at midnight, and trains and ferries were not running. Schools, hospitals, and many offices are shut.
'Anger mounting'
The BBC's Malcolm Brabant in Athens says the deepening unrest will send a signal to the Greek government about the mood in the country and to the international community about Greece's problems in implementing the austerity plan.
Tens of thousands of civil servants currently eligible for a lump sum on retirement have applied before the measures are passed, he says.
The government has appealed to demoralised staff in the military, police, schools and hospitals not to retire, fearing the surge in demand for benefits could further drain treasury resources.
Foreign governments and investors are watching events in Greece with concern.
Chris Lowe of FTN Financial in New York told the BBC that the US financial community had been shocked by the violent protests.
"The [US] reaction is that [Greek] people will simply refuse to accept the austerity plan," he said.
"If the Greeks are this upset, then maybe we need to worry about the Portuguese and Spanish and Italians being upset with the cuts they're going to have to make."
Union leaders say the cuts target low-income Greeks.
"There are other things the [government] can do, before taking money from a pensioner who earns 500 euros (£430) a month," Spyros Papaspyros, leader of the public servants' union ADEDY, told Greek private television.
In Athens, Greeks spoke of their anger at the tough economic measures.
Businessman Dmitris Mentis told the BBC that wealthy Greeks had to pay their "fair share of the burden".
"The rich class has been evading taxes for decades now," he said.
Athens-based journalist Christos Michaelides told the BBC: "There is a big fear in the whole of society - a sense of injustice in most of the measures.
"There is a fear that things could get very, very ugly if people don't feel that what they are doing now, in these austerity measures, is going to be worthwhile."
On Tuesday, several thousand teachers and students marched to parliament carrying black flags and banners.
The demonstration was largely peaceful but some scuffles broke out near the parliament building.
The bail-out deal is designed to prevent Greece from defaulting on its massive debt.
However, it must first be approved by some parliaments in the 15 other eurozone countries.
Greek Prime Minister George Papandreou has said the austerity cuts involve "great sacrifices".