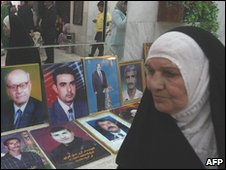 Media watchdog group Reporters Without Borders has named the leaders of China, Russia and Rwanda as some of the world's worst "predators of freedom".
The report, marking World Press Freedom Day, lists what the Paris-based group regards as the 40 worst offenders against the freedom of the press.
North Korea's leader Kim Jong-il and the head of Burma's military government Than Shwe, are also on the list.
Mexico is named as among the most dangerous countries for journalists.
Sixty-two journalists have been killed in Mexico over the last decade.
Russian Prime Minister Vladimir Putin has "promoted a climate of pumped-up national pride that encourages the persecution of dissidents and freethinkers", the report contends.
'PREDATORS'
Group lists offences against press freedom in 40 countries including:
Russia
China
Saudi Arabia
Cuba
Rwanda
Libya
Spain
Sri Lanka
Iran
Italy
The Basque separate group Eta in Spain and criminal gangs in Italy are also said to have threatened journalists.
Israeli Defence Forces have physically injured at least 33 Palestinian journalists, the report says. Palestinian militant group Hamas is also criticised.
The report accuses Sri Lankan President Mahinda Rajapaksa's brother, Defence Secretary Gotabhaya Rajapaksa, of condoning attacks on journalists.
To mark World Press Freedom Day, however, President Rajapaksa ordered the release of a journalist who was sentenced to 20 years in prison on terrorism charges.
Tamil journalist JS Tissainayagam had been convicted on the basis of articles he wrote which the government said incited racial hatred.
Political tension is rising in Rwanda ahead of elections due in August and investigative journalist Robert Mukomboz was thrown out of the country for criticising President Paul Kagame.
"The president's office would try to dictate what I'm supposed to write, would even want to dictate the headlines, and would go to the extent of trying to draft the story for me and include my by-line," he told the BBC's World Today programme.
Reporters Without Borders has removed several Iraqi Islamist groups from the list, arguing that, while violence remains high, journalists are no longer being singled out.