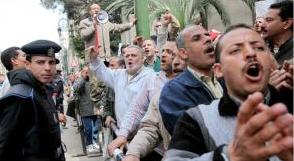 Minister of Manpower and Immigration Aisha Abdel-Hadi said Saturday political blocs were inciting Egyptian workers to hold strikes and protests, stressing that using the workers' card in politics could "lead to serious repercussions".
Last month, an Egyptian security officer watched as textile workers demonstrated outside the building in Cairo where the upper house of Parliament meets.
"To those who try to push workers for the protests and strikes direction, stop it or things will turn fatal," Abdel-Hadi said in remarks to the Egyptian TV.
"The Government is keen more than any one else on preserving the workers' rights. We admit there are some problems. However, we are working around the clock to resolve them," she added.
Egypt marked the annual holiday of Labour Day Saturday. People all around the world celebrate economic achievements of workers by celebrating this day. Most of the countries celebrate the day on the first of May and some countries celebrate the day on first Monday of September.
On this day people organise different events and seminars to highlight the importance of the day. However, things were different in Egypt where some workers from five companies were holding protests outside the Parliament.
"We are holding daily meetings to find solutions to the problems of the protesting workers. However, we hope they will not tolerate the politicians who want to benefit from their problems," Abdel Hadi said on Saturday.
President Hosni Mubarak, vowed 10 per cent pay rise for all Egyptian employees, will address the nation this week marking the Labour Day.
However, workers protesting outside the parliament carried a coffin made of cardboard, wood and glass, and roamed the security-cordoned area as they were joined by some passers-by, who all chanted: "Egypt … your son is on pavement, lacking to money to pay for food".
A worker from each of the five categories of the protesters gave a word to others on behalf of his colleagues, before they all prayed for a solution to their crises.
Meanwhile, Kamal Abou Eita, the head of the independent real estate tax authority employees, said the would launch a sit-in today outside the Cabinet building calling on the Government to specify a higher minimum wage.
"The Government is belittling our rights. This is serious," Abou Eita said.
He added that the workers would keep calling for their rights until they were met.
Nearly every day since February, protesters have chanted demands outside Parliament during daylight and laid out bedrolls along the pavement at night. The government has been unable to settle issues of the workers, who are angry about a range of issues, including low salaries.
This week, with blankets stacked neatly behind them, at least four different groups were banging pots, pans and empty bottles and chanting slogans.
There were factory workers, government workers, employees of a telephone company and handicapped men and women. The group of handicapped people said they had been there for 50 days, demanding jobs and housing.