And considered it a strong warning by the periodic review of the file of Egypt
Gibraeel calls the Egyptian government to respond if it had responses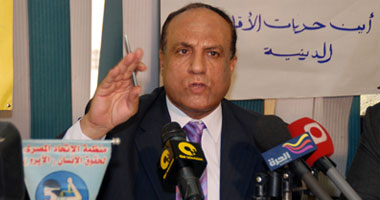 Description of Dr. Naguib Gibraeel, president of the," Egyptian Union", Organization for Human Rights the report of the U.S Committee on Religious Freedom., which included Egypt's condemnation of the blatant violation of the rights of religious minorities and described the Egyptian government as not taking decisive steps to stop the religious discrimination and sectarian violence and the preference for Muslim-majority, considering that this policy is widespread in Egypt
Gibraeel described the report as it matches with reality, but much more violent and condemns Egypt scathing indictment not included in the report, it was to be covered Gabriel, also said the report also reflects a lack of credibility of the Egyptian government as committed to its recommendations during the discussion of its case on religious freedom last February, 17th in the International Council for Human Rights in Geneva, as still is the unified law for building places of worship, locked in drawers and still the freedom to choose and change religion between chains and many of which have the desire and they change their religion are being held prisoners in Egyptian jails, none is present before the court of justice on charges of denigrating non-Islamic religions, despite the provision of many police reports.
Also, many people who want to reconvert to their religion are suspended to have a verdict in their cases, as well, the children are forced to change their names and religion when the father converts into Islam, those children are to be taken off their Christian mothers' custody in violation of the law of the code that stated the age of custody.
Gibraeel Asked the Egyptian Foreign Ministry and the State Minister for Parliamentary Affairs, Minister. Mufid Shehab to respond to this report if they have the answers or the proof, but it is not enough to use those ill phrases, to be put on the stand of the theory of conspiracy saying that the report "represents," intervening in the affairs of Egypt"

22030009-010609562
Cairo, 04.29.2010
Dr. Naguib Gibraeel
President of the," Egyptian Union", Organization for Human Rights.
Nag_ilco@hotmail.com
22030009-0106095627