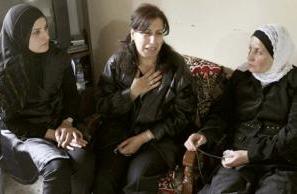 An Egyptian MP on Saturday lashed out at Lebanese authorities for allegedly tolerating their mob in a mountainous area to beat to death and lynch an Egyptian national.
Lebanese Rana Abu Merhi (C) mourns the death of her two children, who were killed along with their grandparents by an Egyptian man, at her cousin's house in the village of Ketermaya, 25 kms (15 miles) southeast of Beirut, on April 30, 2010. Lebanese offic
"This brutal, barbaric incident is not only an affront to Egypt and Egyptians, but it is also a violation of the Lebanese sovereignty," Moustafa Bakri, an independent MP, told The Egyptian Gazette Saturday in an interview.
Bakri had tabled an urgent question to the Egyptian Foreign Ministry Saturday over the procedures it had taken since the detention of the Egyptian citizen and the results of the contacts it made with the Lebanese side. "The follow-up from Egyptian authorities was not enough," he said.
Angry villagers in the southeastern Lebanese mountain village of Ketermaya killed Egyptian Mohamed Msallem, a murder suspect, and strung his body up with a butcher's hook in a revenge attack that hasshocked the country.
Msallem was arrested on Wednesday on suspicion of killing an elderly couple and their two young granddaughters.
When police brought him to the scene of the crime on Thursday, an angry mob overwhelmed the policemen and beat Msallem with sticks and stones and stabbed him.
To cheers and applause, they stripped him to his underwear and socks, paraded him through the street and hoisted him up on an electricity pole with a butcher's hook.
The Egyptian Embassy in Beirut said "it trust that Lebanese authorities will take the necessary measure to ensure justice and implement the law".
Lebanon's Interior Minister Ziad Baroud along with Lebanon's President Michel Suleiman have condemned the killing of Msallem and said such acts defame the country's image.
"These are actions that the human conscience cannot accept," said Lebanese Justice Minister Ibrahim Najjar on Friday, who condemned the crime as barbaric.
"We know the names of 10 people and the courts have to do their work."
Lebanon's Head of Police General Ashraf Rifi has taken "disciplinary measures" against a number of officers and policemen "for committing major mistakes in underestimating the situation on the ground and failing to provide enough and necessary protection for the suspect in this crime".
According to Lebanese media reports, DNA tests of blood stains which were found on Msallem's shirt, proved that he had committed the murder.
Unconfirmed reports said Msallem has raped the two young children before killing them.
Many of the villagers yesterday were unrepentant. Others said authorities had to bear some responsibility for sending the suspect out in public with only a few policemen.
"We thank the security forces for giving us the murderer as a gift so that we could seek revenge for our children with our own hands," Khaled al-Sayyed, a grocery seller, told Reuters.