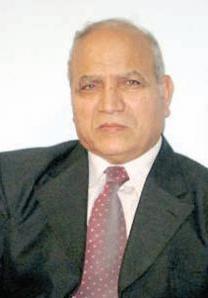 EGYPT'S opposition Arab Socialist Party yesterday strongly denied claims by a former diplomat that the party would field him as a candidate in Egypt's 2011 presidential elections.
Controversial claims: Abdullah el-Ashaal
The party said Abdullah el-Ashaal, Egypt's former ambassador in Saudi Arabia who declared that he would be Egypt's Arab.
Socialist Party's candidate in the next presidential polls, was not illegible to represent it, because he was not a party member.
"These are mere lies," said Wahid el- Oqsori, a former army officer and the chief of the party. "We've never seen el-Ashaal before," he told The Egyptian Gazette in an interview. El-Ashaal, 65 and a current lecturer at several universities, has recently joined a chorus of political figures who announced their bid to run for president in Egypt's next elections, including the former chief of the International Atomic Energy Agency Mohamed ElBaradie.

In statements to the press, el-Ashaal said he would seek to challenge the monopoly the ruling National Democratic Party (NDP) had imposed on Egypt's political stage for more than a quarter of a century now. Egypt's incumbent President Hosni Mubarak, 81 and in power since 1981, has yet to say if he will seek a new term.
Officials at the NDP are also so tightlipped about their candidate for the next presidential elections.

In a recent interview with a local newspaper, Secretary General of the ruling Party Safwat el-Sherif said the party did not have to disclose any news about its candidate for the next elections one year before the vote.

Despite this, opposition and some observers claim Gamal Mubarak, the president's son politician, is being groomed to run for president although both Mubaraks categorically deny it.

Some people said the fuss over whether el-Ashaal would represent Egypt's Arab Socialist Party in the presidential elections is a mere storm in a teacup.

They say the party is not illegible to field a candidate in the
elections.
The Egyptian Constitution makes it necessary for political parties to have at least one representative in Parliament to be able to field a candidate in the elections, the thing that Egypt's Arab Socialist Party does not have.
"El-Ashaal should talk to us before making false claims about his relationship with our party," el-Oqsori said.
"Our party can't be a vehicle for presidency for either el-Ashaal or anybody else," he added.
One reason why el-Oqsori got angry at el-Ashaal's statements is that he plans to run for president if a constitutional amendment is made before the elections.
In 2005, he came a distant fourth to Mubarak in Egypt's first multi-candidate presidential vote.