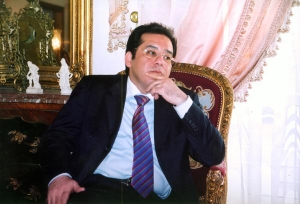 Al-ghad chairman applies for party's presidential candidate
CAIRO: Moussa Mostafa Moussa, chairman of Al-Ghad party, applied to become the party's presidential candidate in the upcoming 2011 elections.
Moussa's application will be discussed by Al-Ghad's supreme committee on April 26, when it is scheduled to vote on the party's presidential candidate.
Moussa was not available for comment; however, in a phone call Thursday to Mehwar's nightly show "48 Hours," he said that the committee's vote will be displayed real-time on large screens to ensure transparency.
Waleed Riyad, deputy chairman of Al-Ghad party, confirmed in a statement that since the doors for applications opened on April 13, the party has not received any applications for presidential candidacy apart from Moussa's.
In what is known as the "Nour Front of Al-Ghad party," at a press conference earlier this month, Ayman Nour, the party's founder, announced that he will run for president in the 2011 elections, and will appoint two vice presidents including a Coptic woman.
He even distributed a booklet detailing his electoral program and said that he will announce a shadow coalition government a few months before the elections which will be "a pleasant surprise to all Egyptians."
Moussa said that they've filed a complaint to the Prosecutor General against the supreme committee of this faction of Al-Ghad.
On Thursday, two party members were arrested in Beheira for hanging posters including a photograph of the three possible presidential candidates for the coming elections: Mohamed ElBaradei, former head of the IAEA, Ayman Nour, founder of Al-Ghad party, and independent MP Hamdeen Sabbahi, representing the unlicensed leftist Al-Karama party.
In related news, Egypt's former ambassador to Saudi Arabia, Abdallah Alashaal, 65, said is seeking the backing of an opposition party to run for president to challenge what he calls the monopolization of power by President Hosni Mubarak, Reuters reported on Friday.
"The Egyptian doesn't believe his vote is credible," Alashaal said.
"This regime wants to stay any way and by any means, so we have to circulate power," he told Reuters, adding that he was speaking to several parties but was seeking the backing of the Arab Socialist Party in particular.
"The main motive to run for the elections is to test the political regime in Egypt," Alashaal, who now lectures at universities, said. –Additional reporting by Reuters