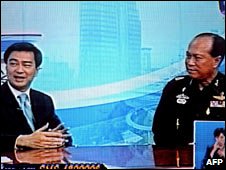 Thailand's prime minister has threatened to retake a fortified encampment set up by anti-government protesters in the capital Bangkok.
But Abhisit Vejjajiva did not say when or how this would be done.
He was speaking on national television alongside the head of the Thai army, General Anupong Paojinda, in what correspondents say is a show of unity.
He has rejected an offer by "red-shirt" demonstrators to end protests if he dissolved parliament to hold elections.
"There will be a retaking of Ratchaprasong [protest site] but the process, the measure, how and when it will be done we cannot disclose because it depends on several things," Mr Abhisit said.
"The main point now is not whether or not to disperse but how to solve the whole problem," he added.
General Paojinda added that the military would support government policy.
"If there is anything needed to bring back peace, well do it," he is quoted by the Associated Press news agency as saying.
Protester demands
But one protest leader was also quoted by the AP news agency as telling protestors after the broadcast that "we won't go home until we win."
Khwanchai Praipana is also reported to be urging supporters in provincial areas to stop security forces from being deployed to Bangkok.
On Friday, the red-shirts said they wanted parliament dissolved within 30 days, a change from previous calls for immediate dissolution.
They also called for an investigation into recent violence. Clashes two weeks ago with police left 25 people dead.
The red-shirts have been occupying parts of Bangkok for six weeks.
Many of the protesters are supporters of former Prime Minister Thaksin Shinawatra, who was ousted in a military coup in 2006.
They say Mr Abhisit's government is illegitimate because it came to power in 2008 by securing parliament's backing after the judiciary dissolved the previous pro-Thaksin government.
Their encampment, in Bangkok's shopping district, stretches south to the business district, where protesters have built large barricades.
A failed crackdown on 10 April left 25 people dead and hundreds injured. Since then tensions have risen steadily, with the Thai capital increasingly choked by the protests.
On Thursday, one person was killed and more than 80 injured in grenade attacks near their barricades.
The government said grenades launched from a southern corner of Bangkok's Lumpini Park, which is behind the red-shirts' main barricade, had caused the explosions.