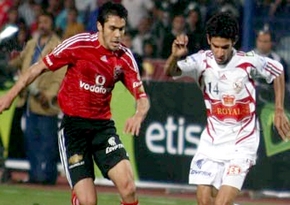 Zamalek fans had their hopes of a clear victory against arch-rivals Al-Ahly thrashed in a last minute goal by Mohamed Barakat, which saw the final score tied at 3-3.
The first half of the game witnessed what was arguably some of the most entertaining Egyptian Premier League football in some time.
Zamalek initiated the heated first half by scoring in the first two minutes. This then saw Al-Ahly tie the game at 1-1, with Zamalek scoring a further goal before their rivals tied again at the close of the first half.
The second half took on a more placid exchange, until ten minutes before the game's close, when Zamalek took the lead for the third time. Well into stoppage time, however, with the White Fans gasping for a long awaited celebration, Al-Ahly's Mohamed Barakat ended all hope of that with a concluding goal into the roof of the net.
Zamalek fans felt their "blood boil" – as expressed by several fans Tweeting at the time. In the streets, horns and drums that had already started to thud to the tunes of an early Zamalek victory faded into a frustrated halt.
"Despite the result, you got to give it to [Zamalek coach] Hossam Hassan," said one self-professed "hardcore" Zamalek fan, Khaled Fathi. "He made a very courageous and possibly quite risky move by taking out midfielder Remi Adiko and replacing him with Omar Gaber, even though Zamalek was leading at the time."
For many Al-Ahly fans watching the game in Agouza's qahwas, an acknowledgment of their team's arguably underwhelming performance appears to have meshed well with a sigh of relief over the draw.
Nevertheless, Al-Ahly, which boasts a nine-point lead over second-placed Zamalek, requires only one point from their remaining four matches to gain the lead title for the 35th time.