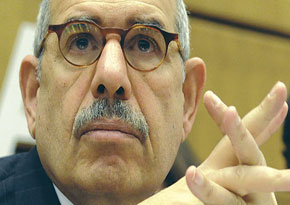 An US officials reported that with Mohamed ElBaradei, former head of the International Atomic Energy Agency, causing a stir, Washington would like to see a more vibrant and inclusive political process emerge in Egypt, according to UPI
ElBaradei is testing the political scene in Cairo for a possible presidential bid.
ElBaradei has not indicated whether he would run in an election to challenge Egyptian President Hosni Mubarak in 2011.
ElBaradei, a Nobel Peace Prize laureate, has met with members of the opposition Muslim Brotherhood and is seemingly causing a reaction from the political leadership in Cairo.
P.J. Crowley, a spokesman for the US State Department, said political maneuvering in Cairo was an internal concern for the Egyptians.
"I think we would like to see the emergence of a more inclusive political process in Egypt," he said, "and one that is competitive and provides the opportunity for more citizens in Egypt to both participate in the process and have faith and opportunity to shape the future of governance in that country."
ElBaradei said he would not consider running for president unless he could challenge Mubarak as an independent candidate. Muslim Brotherhood leaders won several seats in the Egyptian Parliament by running as independents in 2005.