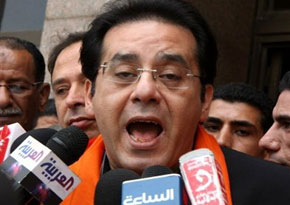 Former Egypt's Ghad Party president Ayman Nour announced the start of the second stage of the "door knocking" campaign which aims to open up nominations for the presidency, according to Egypt's press
Nour said that "ElBaradei is a hypothetical candidate, whereas I am a real candidate"
He added he will defer to the wish of the opposition if they agree on ElBaradei.
During a press conference Nour held on Saturday at his home in Zamalek, Nour spoke about a time when he had mentioned the possibility of his visiting the governorate of North Sinai while on a visit to Port Said, when "five minutes later I received the response: a telephone call from a security body asking me about the schedule of my visit to Port Said."
"At the end of the call, he threatened me, saying, 'If you're thinking of visiting North Sinai, then you're playing with fire. That fire could burn you. If some bully stabs you with a knife while walking in the street, then it's not our responsibility,'" Nour said.
Nour said that he would submit a request to the Ministry of Interior to hold ten public conferences in Tahrir Square in downtown Cairo and in different governorates. Nour said that if the ministry objects it must use the Emergency Law to stop him, which, he said, would be contradictory to the regime's claims that it only uses the Emergency Law to target terrorists and drug dealers.
Nour also revealed that he has received two invitations to meet with Gamal Mubarak, chairman of the ruling National Democratic Party's influential Policies Secretariat.
The first invitation, Nour said, came from a security leader following Nour's release from prison a year ago. The security leader offered to settle Nour's legal crisis, telling Nour that Gamal Mubarak was a reformist and had no foreknowledge of Nour's imprisonment.
"I asked him to direct Gamal Mubarak to the corruptors first, if Gamal is a reformist," Nour said.
The second invitation came during last Ramadan, when Nour met a member of the General Secretariat of the NDP at a hotel in Alexandria, Nour said.
The Egyptian National Democratic Party official told Nour that Gamal Mubarak had been in Davos when Nour was arrested, and that he wasn't happy with the decision, Nour added.
"I respected him and his desire to meet me. I never announced these details before," Nour continued, "but I declined to meet him because they requested that the meeting be secret. But since I'm being threatened with murder, I can't keep it secret anymore."
Speaking on the nominations for the presidency, Nour said that ElBaradei will only be able to nominate himself for the presidency through a political party, and only if Article 76 of the Constitution is amended and opposition powers agree on him as their presidential candidate. He added that in this case he would respect their wish and not nominate himself for the presidency.
However, Nour said that he considers himself a "real candidate" for the presidency, supported by the Egyptian street, compared with ElBaradei whom he described as only a "hypothetical candidate."
Asked if his popularity had diminished, Nour replied, "I'm a professional when it comes to political work. Popularity is a curve that goes up and down."
"I have other means, and amazing, conclusive surprises regarding nomination, but I'm not announcing them now."