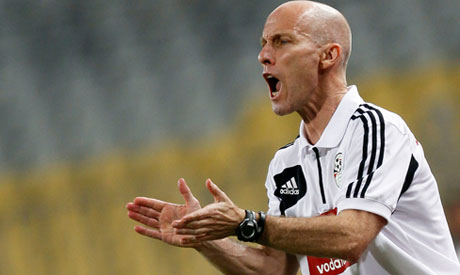 Egypt national team coach Bob Bradley has expressed his pleasure after beating Guinea 3-2 in the African World Cup qualifiers on Sunday and leading the Group G.
"The players performed well throughout Guinea match as they edged to change the result," Bradley told television program Stad Africa after the away game.
Egypt secured a late win over Guinea in a thrilling World Cup qualifier when striker Mohamed Salah scored deep into stoppage time.
"Beating Guinea is important for the road to the World Cup," the American coach added, "It will help the players in the coming games. All the crew is working to book a place in the 2014 World Cup."
Diaa El-Sayed, assistant coach of the national team which holds seven African Cup of Nations trophies, also revealed his hopes of reaching the 2014 World Cup.
"Egypt's national team will hold a closed training camp in Cairo to prepare for Africa Champions League qualifiers against Central African Republic next Friday," El-Sayed added.
The Pharaohs' tactician Zaki Abdel-Fattah announced he will hold a meeting with veteran goalkeeper Essam El-Hadary to advise him on the mistakes he made during the Guinea game.
"We are pleased that we are leading Group G in the World Cup qualifiers as this will support the team to score more victories through the coming games," Abdel-Fattah added.
(For more sports news and updates, follow Ahram Online Sports on Twitter: @AO Sports / and facebook AhramOnlineSports)
All right reserved Copts United © 2004 - 2012 www.coptsunited.com