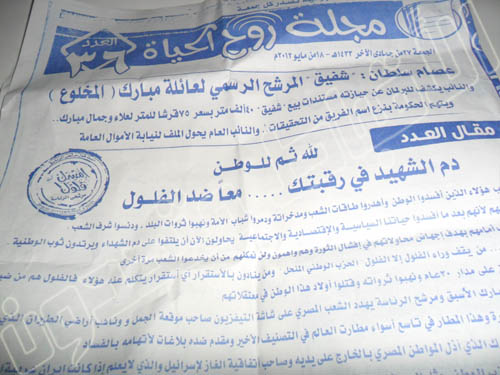 Islamists of Beni Suef continue their campaign against Amr Moussa and Ahmed Shafik, the presidential candidates. Roh al-Hayat magiazine of the Salafis of Beni Suef (issue number 36), said that Ahemd Shafik is the official candidate for Mubarak and his family.
The magazine claimed as Shafik was the prime minister in Mubarak's regime; he stole the lands of Egypt airline.
The magazine also accused Amr Moussa of humiliating the Egyptians abroad, and he made the gas agreement with Israel.
It's worth mentioning that a number of the imams of mosques in Beni Suef had announced during their sermons on Friday that they support Dr. Mohammed Mursi, Muslim Brotherhood's candidate, which made some young people got into an argument with them.
All right reserved Copts United © 2004 - 2012 www.coptsunited.com