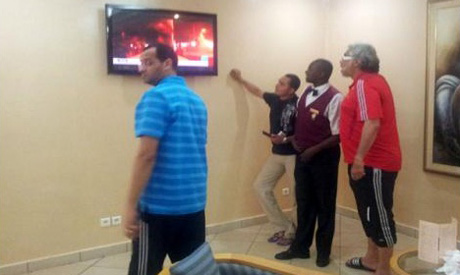 Field Marshal Mohamed Hussein Tantawi has agreed to send a military aircraft to Mali to bring back a stranded delegation of Ahly football players.
The team are trapped in Mali following a military coup in the capital Bamako on Monday night.
The team had been visiting the west African nation, which has been facing violence and instability since an initial coup in March, to play their African Champions League clash against Stade Malien last Sunday.
"I am in permanent contact with the club's president Hassan Hamdy, and he told me that it was agreed with Field Marshal Mohamed Hussein Tantawi that a military aircraft would be sent to take us home," board member Khaled El-Darandaly, who is currently with the team in Bamako, was quoted as saying on the club's official website.
Several reports in the Egyptian media have claimed that a jet is already on its way to Ivory Coast capital Abidjan, waiting for permission to land in Bamako.
Shady El-Sharkawy, the Egyptian consul in Bamako, has confirmed that he has received authorisation from Mali for an Egyptian military plane to land in order to evacuate the players.
Although the team reported hearing gunfire in the streets, the Red Devils' delegation is safe. The group is staying inside a highly secured hotel along with the media representatives that accompanied them.
"We are all good but very anxious, as we want to get back home, and especially as we don't know when we will be allowed to leave," defender Sherif Abdel-Fadil told the club's website.
All right reserved Copts United © 2004 - 2012 www.coptsunited.com