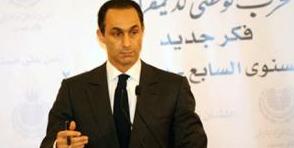 CAIRO - Gamal Mubarak, the son of Egyptian President Hosni Mubarak, said Monday that presidential elections will be held in September 2011 but refused to say if he himself will run.
"I gave an answer to this question five years ago and I have already replied to this question possibly three, four times a year since," Mubarak said in English when asked if he will run in the election.
Egypt's ruling National Democratic Party would announce its candidate for the election at a special party convention, the 48-year-old banker said as the NDP wrapped up its annual congress.
"The only time you will find out who is going to be the eventual candidate is when the party convenes, sometimes obviously before the process starts next July, and makes it's final official decision," he said.
"It's a constitutional issue, everybody knows when the presidential elections are, in September of next year. The process starts 60 days before," he said.
In November, Gamal Mubarak told an Egyptian television interviewer he has "no personal ambition" to succeed his father, who has ruled the country since 1981.
The 82-year-old president addressed the party's congress on Saturday but did not say whether he will run for a sixth term in office.
Angry protests erupted in Egypt earlier this year after rumours he was being prepared to replace his father.
A secret diplomatic cable published on the WikiLeaks website said the American embassy in Cairo reported that Hosni Mubarak is likely to seek re-election and serve for the rest of his life.
All right reserved Copts United © 2004 - 2012 www.coptsunited.com