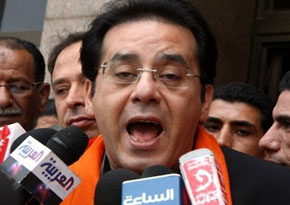 Egypt's opposition Ghad party said Tuesday that it would join Mohamed ElBaradei in boycotting November parliamentary elections
Last week, former U.N. nuclear chief Mohamed ElBaradei, a potential candidate for president, said the elections would be rigged and anyone participating in them would be going against the national will.
A boycott of parliamentary elections could raise the stakes for a presidential vote in 2011, analysts say.
Mubarak, 82, has not said if he will run again but many Egyptians believe he will try to lever his son Gamal, 46, into power if he does not.
Both father and son have denied any succession plan, but officials from the ruling party have welcomed a Gamal and Mubarak bid.
"We respect the opinion of ElBaradei in the boycott," Ghad chairman Ayman Nour said after his party voted overwhelmingly against participation. "This man is a great weight in the process of change, and we respect him."
Nour ran against President Hosni Mubarak in the 2005 presidential elections, coming in a distant second.
He was jailed shortly after that vote for submitting forged documents when setting up Ghad, charges he says were politically motivated.
The liberal Ghad party hopes that a united opposition to the vote would deny legitimacy to the ruling party, and representatives of Egypt's Kefaya movement and the communist party joined it at Tuesday's meeting.
Ghad co-founder Wael Nawara told reporters: "We will break out of the rules of this game and lay down new rules. We will work to create a new parliament and a new constitution."
Calls for an election boycott in November grew louder after an upper house vote in June saw Mubarak's ruling party sweep most seats. Rights groups' complained of abuses, while the government insisted the vote was fair.
But Egypt's opposition force remains divided, with the Muslim Brotherhood, the biggest opposition bloc with 88 seats in parliament and nationalist liberal Wafd party, saying they will participate in elections.
All right reserved Copts United © 2004 - 2012 www.coptsunited.com