At least 50 people have been killed and thousands more evacuated as floods caused by heavy rain brought chaos to the Philippines, officials say.
One town is said to be completely under water. Power has been cut off to parts of the capital, Manila, where hundreds of people are trapped on rooftops.
The government has declared a calamity, allowing access to emergency funds.
Television pictures showed water flowing down roads like rivers, with the floods chest-deep and rising.
The equivalent of a whole month's rain fell in six hou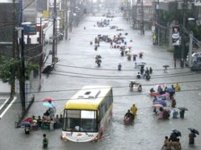 rs as Tropical Storm Ketsana, also known as Ondoy, lashed the island of Luzon, causing the worst flooding in Manila for 20 years.

Nearly 2,000 people were evacuated and hundreds more were stranded on rooftops.
Philippines President Gloria Arroyo appealed for donations and called for calm.
"I am calling on our countrymen, especially residents of metro Manila and other provinces in the path of the typhoon, to please stay calm, follow the instructions of local officials and civil defence authorities," she said in a TV message.
Roads blocked
Mayor Mon Ilagan of the town of Cainta, in Rizal province to the north, told local media his town was "almost 100% under water".
Provincial spokesman Tony Mateo, quoted by the Associated Press, said at least 35 people had been killed in five townships in the province and 27 more were missing.
Deputy presidential spokesman Anthony Golez told AP that two people had died south of Manila, and three others in Quezon City. There are media reports of at least 10 more deaths in and around the capital.
Roads leading into Manila were rendered impassable by stalled vehicles, and some ferry services were cancelled.
Thousands of passengers were stranded as international and domestic airports were shut down.
Tropical Storm Ketsana, with winds of up to 100 km/h, is still over Luzon, and is expected to head out over the South China Sea on Sunday or Monday.