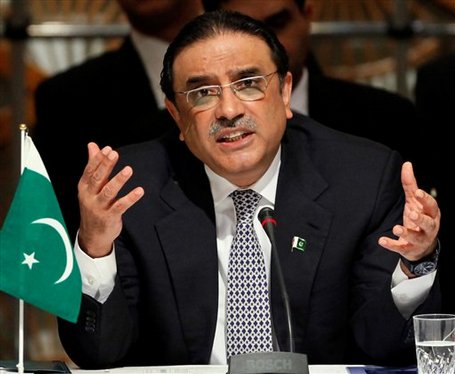 GARHI KHUDA BUX, (SANA): President Asif Ali Zardari has said that Pakistan Peoples Party would not allow Egyptian model to be implemented in Pakistan. He said that Caretaker set-up would be given in consultation with the opposition
He was addressing here on Thursday on the occasion of 5th death anniversary of the former Prime Minister Benazir Bhutto.
He said that PPP always talked of reconciliation, adding that PPP moved ahead along with others and would continue to move forward taking the other along with it.
He said that the policy of reconciliation was started in the country by the mother of democracy Nusrat Bhutto, adding that PPP is following that policy. She united the parties against Zia-ul-Haq, he said.
The president said we have never treated anyone unfairly, nor do we want to, nor will we ever as we are pursuing the policy of reconciliation.
He said that PPP is against the cruel people and would support the victimized. He said that if any one challenged the PPP, it would fight till last breath.
He asked the PPP workers to start preparations for next term, adding that elections would not be postponed at any cost.
He said that opposition would be consulted to bring the care-taker prime minister, adding that Egypt model would not be allowed to be run in the country.
Asif Ali Zardari said that Bilawal Zardari Bhutto has completed his education and now he would work along with the thinking of the people. Bilawal's uncles would not leave him like uncles of Benazir Bhutto, he added.
Asif Ali Zardari said that it was for the first time in country's history that the democratic government was going to complete its constitutional tenure.
He said that Asghar Khan Case has proved that PPP's mandate was stolen in the past, he assured of transparent elections on time. He vowed to appoint a caretaker prime minister, having a non-political background, in consultation with the opposition.
President Asif Ali Zardari said that Pakistan Peoples Party has taken revenge by reconciliation with the opponents; they wants to fight in parliament by masses support democratically.
President said the government has done the necessary legislation for putting in place a caretaker setup. "The setup will be put in place in consultation with the opposition and other political parties so that the general elections are held in a free, fair and impartial manner", he added.
He said the sole objective of setting up an independent election commissioner was to ensure that no hidden agenda could be achieved.Attired in a black shalwar-kameez and a Sindhi cap, the President said his government was all set to complete its five year term and will be holding the polls.
"We have taken all measures to ensure holding of free, fair and transparent election," the President said and added that no one should have any doubt in this regard. He said "we have served long 12 year jail-terms and are not afraid of any thing."
"If needed, we will fight back, as we have fought for this freedom and will not let anyone to usurp it at any cost," the President vowed.
He said the Egyptian model of governance cannot be pursued in Pakistan."If someone thinks that it can be followed, than he is wrong, as it will not work here", he noted.
He, however, urged all the proponents of the idea to come forward and be a part of the electoral process. He said politics was not a day-long affair and it took decades to make a strong country and nation. He said the party was here to stay for a long time to come and continue to serve the masses.
He said certain internal and external forces did not wish democracy to succeed, but expressed his firm resolve that just like the government has completed five years of democracy, it will continue to flourish and gain more strength in the days ahead.
"With the support of the people we will fight all forces that are against democracy," the President said.
He expressed the hope that the media that was given independence will also play its due role and ensure that the freedom acquired was not taken back at any cost.
The President termed Hamid Raza Kazmi the only political prisoner in the country, and pointed that it was despite the fact that he was part of the ruling party. He also lauded former Prime Minister Syed Yusuf Raza Gilani for sacrificing his post and did not abandon the party like the "uncles", who had left Shaheed Benazir Bhutto, in the past.
"We believe in doing politics, but have neither done any injustice to anyone nor will let anyone do injustice to us," the President said.
He said the Pakistan Peoples Party averted the Arab Spring sort of thing after the assassination of Shaheed Benazir Bhutto, only by pursuing the slogan of "Pakistan Khapaey".
"We have never compromised politics for any gains and never pleaded anyone to let us go abroad on a plane", he remarked.
The President said it was a day of sorrow and joy for him as his son, worker of the Pakistan Peoples Party was amongst his extended party.
Ends-SANA-TR-
http://www.sananews.net/english/ppp-won%e2%80%99t-allow-egyptian-model-to-be-implemented-in-country-zardari/