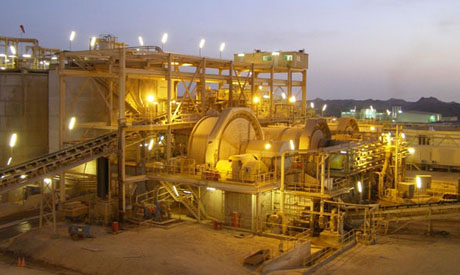 Egypt's largest gold producer, the Australia-based Centamin PLC, has been allowed by the government to export around 1.6 tonnes of the gold extracted from its Sukari mine, Al-Ahram's Arabic-language news website reported Sunday.
A senior official at the Egyptian Mineral Resources Authority told Al-Ahram that Centamin would be permitted to export the said amount of gold, which was extracted from the three-square-kilometre area legally allotted to the company by an administrative court ruling in October.
Previously, Egypt's petroleum ministry had prohibited gold exports by the company, based on the same administrative court ruling.
Centamin has suffered numerous production problems within the last two months.
On Friday, the company denied reports that the Egyptian General Petroleum Corporation (EGPC) had demanded that it pay back almost LE403 million (roughly $65.3 million) in fuel subsidies from the period between December 2009 and January of this year.
The gold producer described the EGPC's claims as "illegal and arbitrary."
The EGPC subsequently denied that Centamin owed any payments.
In October, Centamin was ordered to halt all local operations after an Egyptian court ruled that the company's legal right to operate the Sukari mine, located in Egypt's Eastern Desert, was invalid. Centamin went on an appeal the verdict and resume its operations.
Centamin has been exploring for gold in Egypt since 1995. Construction of the Sukari gold mine began in 2007, with the first gold being extracted two years later.
In 2011, the mine's total production stood at 202,698 ounces of gold, worth some $556 per ounce, representing a 35 per cent increase on 2010 production.