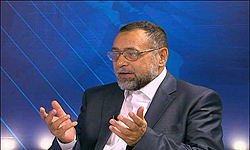 Ssecretary-General of Egypt's Socialist Labor Party Magdi Hussein called on the Egyptian nation to utilize Iran's three-decade-long experiences in confronting western challenges and sanctions to be able to overcome the West's psychological war against Egypt.
Hussein made the remarks at a meeting between participants in an Islamic Awakening conference in Tehran and Supreme Leader of the Islamic Revolution Ayatollah Seyed Ali Khamenei here in Tehran earlier this week.
Hussein lashed out at the West for launching a psychological war against the Egyptian nation to undermine people's resolve through its mercenaries, and said the western countries are trying to introduce Egypt as a retarded state to force it to ask for their aid.
"The West seeks to damage our self-confidence, and the experience of the Islamic Republic of Iran is important because it has tolerated and gone through numerous problems and challenges such as economic embargos. Iran has proved that it is possible to resist challenges and make progress," Hussein said.
He further described Iran as a paradigm and a role model for the regional nations, and said the regional states should know that Islamists can make scientific advancements as they did in the past.
The United States and the West supported former Egyptian dictator Hosni Mubarak's repression of Islamic groups and intellectuals and torturing of freedom-seeking Egyptian youth before the collapse of his regime in the January 25 Revolution.
After the ouster of Mubarak's regime, the Iranian and Egyptian officials voiced their interest in the resumption of diplomatic relations between the two countries and Iranian Foreign Minister Ali Akbar Salehi officially invited his then Egyptian counterpart Nabil Al-Arabi to pay a visit to Tehran.
Later, the Iranian foreign minister and his former Egyptian counterpart also held a meeting in Bali, Indonesia.
Also, during the Non-Aligned Movement summit in Tehran late August, Iranian President Mahmoud Ahmadinejad and his Egyptian counterpart Mohammad Mursi conferred on ways to promote the bilateral relations between Tehran and Cairo, and stressed the need for continued consultations in this regard.
In a latest development, Mursi in a meeting with Salehi in Cairo in September said that Iran plays an important role in resolving the regional crises, and underlined that Tehran and Cairo should be united in dealing with global challenges.
"When the followers of unrighteousness are united in their unrighteous path, why should not we go united in our right position when dealing with global challenges," Mursi said.
Stressing that Egypt assumes Iran's stability as its own stability, he said, "There is no problem between Iran and Egypt."