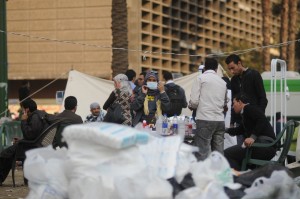 Tahrir Doctors' Society, made up of doctors who actively support the revolution, accused Freedom and Justice Party member, Hazem Farouk, of torturing citizens.
Hazem Farouk is the Chairman of the Dentists' General Syndicate and a former member of the dissolved People's Assembly. The statement, which was backed by a video, states that Farouk apprehended citizens and tortured them mercilessly. It added that victims were tortured in order obtain confessions saying they worked for security forces.
The video accompanying the statement shows incidents of torture. At one point a shirtless man, whose hands are tied behind his back, is asked to lie on the floor. He is told that his hands will not be untied until after he has confessed.
The doctors said they feel mortified that someone involved in such a crime belongs to their profession.
The society filed a complaint against Farouk to the prosecutor general and demanded immediate investigations into the incident. It also demanded that Farouk be investigated by the Ethics Committee of the Dentists' Syndicate. The Dentists' General Syndicate could not be reached for a comment.
The society also demanded that the Freedom and Justice Party investigates Farouk and clearly states its stance on the crime. Ahmed Sobei, a spokesperson for the party said that such complaints are made to destroy people's reputations. "I had a complaint filed against me," he said.
Sobei said that Farouk is a good person and that even if he were present at the clashes he would not do something like that. "If they have videos and witnesses, let them present them," Sobei said. "Even if there is a video, it is not real," he added.
Sobei said that the accusations are not worth replying to and are an "insult to the revolution."
There are allegations that Freedom and Justice Party and Muslim Brotherhood members tortured anti-Morsy protesters during violent clashes which took place outside the Presidential Palace, last week. The clashes left at least eight dead and over 700 injured.
Human Rights Watch released a report on Wednesday calling for investigations into the, "detention and abuse of several dozen anti-government protesters in Cairo by Muslim Brotherhood members." The human rights group called on the general prosecutor to investigate the deaths, injuries and the failure of security forces to intervene.