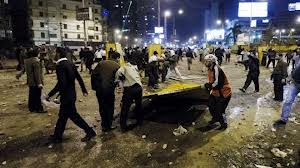 European newspapers have described the bloody clashes between civil and Islamic currents on Wednesday night as the "Night of death".
Moreover, it criticized President Mohammed Morsy for supporting the devision between the Egyptian people and encouraging MB supporters to attack peaceful demonstrators, considering that his popularity and legitimacy have come to an end. And warned against a potential civil war in Egypt.
It explained that such clashes comes as a result of ignoring the demands of the civil current and drafting an Islamic constitution detrimental to the interests of liberals, women and other minorities. Moreover, Islamic current has issued fatwas to use violence against non-Islamic currents causing 5 killed and 600 injured.