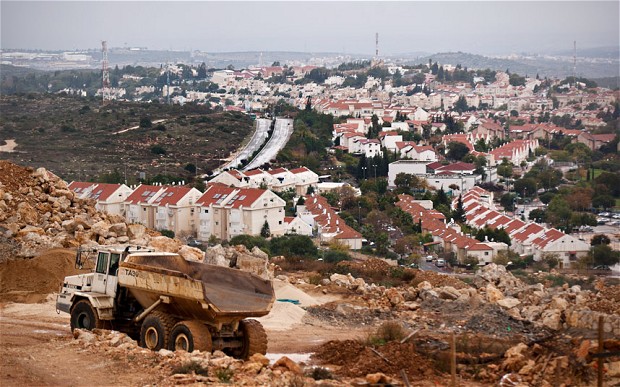 Five European countries, including Britain, have registered formal protests with Israeli ambassadors over last week's decision by Benjamin Netanyahu's government to build 3,000 settlers' homes and develop an area of the West Bank that could render a Palestinian state unviable.
Along with Australia and Brazil, they were joined by Egypt, threatening to destabilise its fragile regional relations.
The Egyptian foreign minister said it had registered a "strong protest" with Israel's Cairo ambassador over the proposals.
Despite the mounting international protest however, Mr Netanyahu's office indicated there would be no backing down over its settlement plans.
An official in Mr Netanyahu's office told the AFP news agency: "There will be no change in the decision that has been made."
He spoke after Israel said that, in addition to last week's announcement, it would also revisit plans to build 1,700 homes in Ramot Shlomo in east Jerusalem, and another 2,600 in Givat Hamatos.
The Ramot Shlomo development was shelved in 2010 after it provoked a row with the US.
Britain, France, Sweden, Spain and Denmark all summoned Israeli envoys on Tuesday to protest over the settlement plans, while Germany and the UN secretary general, Ban Ki-Moon, denounced it.
The newspaper Yedioth Ahronoth, quoted unnamed Israeli diplomats as saying the outcry could not have occurred without the complicity of the Obama administration, which has profound differences with Mr Netanyahu over settlements.
"We would not be mistaken to say that Europe was acting with Washington's encouragement," the paper's commentator, Shimon Shiffer wrote. "The White House authorised Europe to pounce on the Netanyahu government and to punish it."
One Israeli official told the Daily Telegraph that while the US was unlikely to have ordered such a move, it may have signalled approval.
"It's more likely that they [the Americans] have been informed and have not raised any objection, but also showed some understanding and maybe even more," he said. "There's probably an understanding between the US and the Europeans that this is the right thing to do at this point."
The former US ambassador to Israel, Dan Kurtzer, accused Mr Netanyahu of unveiling plans to develop the previously off-limits E1 section of the West Bank to punish President Barack Obama for failing to endorse a previous American-Israeli understanding that many settlements would remain despite any future peace deal. "It wasn't just retribution at the UN, it was retribution at the US as well," he told the liberal Haaretz newspaper.
William Hague, the foreign secretary, dismissed the possibility of European Union sanctions against Israel but said other measures could be applied.
"If there is no reversal of the decision that has been announced, we will want to consider what further steps European countries should take," he said.