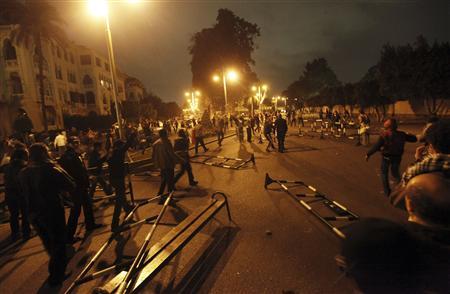 Egyptian police battled thousands of protesters outside President Mohamed Mursi's palace in Cairo on Tuesday, prompting the Islamist leader to leave the building, presidency sources said.
Officers fired teargas at up to 10,000 demonstrators angered by Mursi's drive to hold a referendum on a new constitution on December 15. Some broke through police lines around his palace and protested next to the perimeter wall.
The crowds had gathered nearby in what organizers had dubbed "last warning" protests against Mursi, who infuriated opponents with a November 22 decree that expanded his powers. "The people want the downfall of the regime," the demonstrators chanted.
"The president left the palace," a presidential source, who declined to be named, told Reuters. A security source at the presidency also said the president had departed.
Mursi ignited a storm of unrest in his bid to prevent a judiciary still packed with appointees of ousted predecessor Hosni Mubarak from derailing a troubled political transition.
Facing the gravest crisis of his six-month-old tenure, the Islamist president has shown no sign of buckling under pressure.
Riot police at the palace faced off against activists chanting "leave, leave" and holding Egyptian flags with "no to the constitution" written on them. Protesters had assembled near mosques in northern Cairo before marching towards the palace.
"Our marches are against tyranny and the void constitutional decree and we won't retract our position until our demands are met," said Hussein Abdel Ghany, a spokesman for an opposition coalition of liberal, leftist and other disparate factions.
Protesters later surrounded the palace, with some climbing on gates at the rear to look down into the gardens.
At one point, people clambered onto a police armored vehicle and waved flags, while riot police huddled nearby.
The Health Ministry said 18 people had been injured in clashes next to the palace, according to the state news agency.
YEARNING FOR STABILITY
Despite the latest protests, there has been only a limited response to opposition calls for a mass campaign of civil disobedience in the Arab world's most populous country and cultural hub, where many people yearn for a return to stability.
A few hundred protesters gathered earlier near Mursi's house in a suburb east of Cairo, chanting slogans against his decree and against the Muslim Brotherhood, from which the president emerged to win a free election in June. Police closed the road to stop them from coming any closer, a security official said.
Opposition groups have accused Mursi of making a dictatorial power grab to push through a constitution drafted by an assembly dominated by his supporters, with a referendum planned for December 15.
They say the draft constitution does not reflect the interests of Egypt's liberals and other groups, an accusation dismissed by Islamists who insist it is a balanced document.
Egypt's most widely-read independent newspapers did not publish on Tuesday in protest at Mursi's "dictatorship". Banks closed early to let staff go home safely in case of trouble.
Abdelrahman Mansour in Cairo's Tahrir Square, the cradle of the anti-Mubarak revolt, said: "The presidency believes the opposition is too weak and toothless. Today is the day we show them the opposition is a force to be reckoned with."
But after winning post-Mubarak elections and pushing the Egyptian military out of the political driving seat it held for decades, the Islamists sense their moment has come to shape the future of Egypt, a longtime U.S. ally whose 1979 peace treaty with Israel is a cornerstone of Washington's Middle East policy.
The Muslim Brotherhood and its allies, who staged a huge pro-Mursi rally in Cairo on Saturday, are confident enough members of the judiciary will be available to oversee the mid-December referendum, despite calls by some judges for a boycott.
"The crisis we have suffered for two weeks is on its way to an end, and very soon, God willing," Saad al-Katatni, leader of the Brotherhood's Freedom and Justice Party, told Reuters in an interview on Tuesday.
Cairo stocks closed up 3.5 percent as investors took heart at what they saw as prospects for a return to stability after the referendum in a country whose divisions have only widened since a mass uprising toppled Mubarak on February 11, 2011.
Mohamed Radwan, at Pharos Securities brokerage, said the Supreme Judicial Council's agreement to supervise the vote had generated confidence that it would go ahead "despite all the noise and demonstrations that might take place until then".
"NO WAY PERFECT"
Prime Minister Hisham Kandil, a technocrat with Islamist sympathies, said in an interview with CNN: "We certainly hope that things will quiet down after the referendum is completed."
He said the constitution was "in no way a perfect text" that everyone had agreed to, but that a "majority consensus" favored moving forward with the referendum in 11 days' time
The Muslim Brotherhood, now tasting power via the ballot box for the first time in eight decades of struggle, wants to safeguard its gains and appears ready to override street protests by what it regards as an unrepresentative minority.
It is also determined to prevent the courts, which have already dissolved the Islamist-led elected lower house of parliament, from further obstructing their blueprint for change.
Despite charges that they are anti-Islamist and politically motivated, judges say they are following legal codes in their rulings. Experts say some political changes rushed through in the past two years have been on shaky legal ground.
A Western diplomat said the Islamists were counting on a popular desire for restored normality and economic stability.
"All the messages from the Muslim Brotherhood are that a vote for the constitution is one for stability and a vote against is one for uncertainty," he said, adding that the cost of the strategy was a "breakdown in consensus politics".