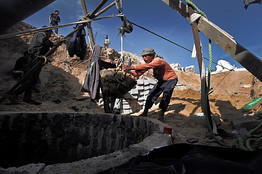 Rafah, Gaza Strip—Israel and Gaza's leaders are locked in talks to harden the temporary cease-fire that halted last month's hostilities. But prospects for a longer peace hinge largely on Egypt, and whether its new Islamist government has the will and strength amid domestic unrest to control weapons flowing through an increasingly unruly Sinai Desert.
Most of the weapons wielded by Gaza's militant groups are transported across the Sinai Peninsula and smuggled into Gaza through a network of tunnels along with thousands of tons of other supplies, from cigarettes to appliances. A recent smuggling surge helped Gazan militants obtain new advanced weaponry, according to Israel and independent experts on arms transfers, including Iranian-designed Fajr-5 rockets that allowed Gazans to fire on Tel Aviv and Jerusalem, well beyond recent capabilities.
A Palestinian man worked Sunday in Rafah, Gaza Strip, to repair a smuggling tunnel damaged during Israel's eight-day offensive against Hamas.
Egypt, under newly elected President Mohammed Morsi, has seized arms on the Sinai and filled in alleged smuggling tunnels. Egyptian police last week seized a truckload of Grad missiles in the coastal port city of Suez that Egypt's interior ministry said was bound for Sinai, according to the official Egyptian state news agency.
But critics of Egypt's government, including officials inside Israel, say Cairo's latest efforts have largely been public-relations moves that haven't effectively cut off flows to Gaza. Israel has maintained a blockade of the strip since Hamas—an ideological ally of Mr. Morsi's backers, the Muslim Brotherhood—seized control of the area in 2007. Israel says it can't lift the blockade until arms shipments cease and that only Egypt can stop them.
Further distracting Egypt's leaders is the uprising against President Morsi that erupted just days after he helped broker the cease-fire. Egyptian opposition groups are planning massive protests Tuesday against his moves to expand his power, in the gravest threat to authority in Egypt since Hosni Mubarak's overthrow almost two years ago.
The Egyptian military and police didn't comment.
A young Palestinian tunnel operator who agreed to be identified only as Ali said the trade in weapons—most of it, he said, from postwar Libya—has been up and down since last year's ouster of Mr. Mubarak, who before then had worked closely with Israel to stanch much of the smuggling. "When Mubarak stepped down, it was a free-for-all," he says.
Egyptian authorities, he said, recently launched efforts to close smuggling tunnels, including filling the mouths of some tunnels, which he said operators quickly dug back out. It was Israel, he said, that landed a crippling blow—bombing what he said was about 600 of 1,000 smuggling tunnels, an assessment that couldn't be confirmed and that Israel hasn't addressed.
President Barack Obama underscored the importance of Sinai to the Israel-Hamas conflict when he pledged last month to help suppress weapons smuggling in the deserted region as part of the U.S. commitment to the truce. How far the U.S. intends to insert itself into the Sinai remains unclear.
But U.S. intelligence agencies see the region as an incubator for terrorist groups whose ambitions may reach farther, according to U.S. officials. U.S. officials have been following activities on the peninsula more intensely since late last year, when a Sinai-based group calling itself Ansar al Jihad proclaimed allegiance to al Qaeda.
"We're seeing an internationalization of Sinai," said Barak Barfi, a Middle East specialist with the New America Foundation who is skeptical of the Egyptian military's ability to exert control over the Sinai. "We're seeing a security vacuum and we're seeing the frustration of the locals, which turns Sinai into a ticking time bomb."
Weapons smugglers are only part of the problem in the Sinai, a desert stepping stone from the African continent north to the Levant and toward Europe.
Sinai's disorder swelled after the Mideast peace deal between Israel and Egypt, under which Israel returned Sinai to Egypt in 1982. The treaty limited the number of military personnel Egypt could station in the buffer zone with Israel.
The peninsula's population of some 400,000 Bedouins, already economically isolated, bucked Cairo's control, creating a haven for Islamic radicals, drug-runners and smugglers of people and organs from Africa. Following last year's revolution, Bedouin tribes cashed in on longstanding vendettas against each other and against a notoriously cruel force of police dispatched to control them.
Beyond securing weapons for Palestinian militants, the Sinai is increasingly being used as a staging area for attacks against Israel, complicating Egypt's already strained relationship with the Jewish state.
Since last year's revolution, militants have attacked a pipeline carrying natural gas to Israel 14 times, Egypt's government says, and launched three big assaults on Israeli territory from Egypt. A September attack left an Israeli soldier and three militants dead.
Hamstrung by official sensitivity toward the marginalized Bedouin community and outgunned by militants, police and military authorities have retreated to Al Arish, the region's major city, about a 30-minute drive from the Gaza border. Machine-gun nests can now be seen on rooftops. Armored personnel carriers bristling with assault rifles cruise city streets at high speeds. Locals refer to the Al Arish police station as the "Green Zone," the name also given to the international coalition's safe zone in Baghdad.
But outside Al Arish, one police checkpoint has been attacked 37 times since last year's revolution, according to news reports. Police have abandoned almost all pretenses of self-defense.
When a gang of militants killed 16 soldiers in an Aug. 5 attack on an army barracks outside Al Arish, the military quickly announced plans for "Operation Eagle" to rout out the Islamist militants. Activists expected an iron-fisted response against Sinai's Bedouins like the one that followed a 2004 militant attack that killed 34 mostly tourists in the resort city of Taba.
In their only press conference regarding Operation Eagle, the military said government forces killed 32 militants. Activists and several tribal leaders in Sinai, however, have reported no evidence of a real offensive.
Critics of Mr. Morsi say he isn't mounting a serious effort to stem a widening market for high-tech arms and a rising extremist tide.
"It would be a great cost to the central government to use the same violent and abusive tactics of the Mubarak regime," said Hossam Bahgat, the general director of the Egyptian Initiative for Personal Rights, which follows events in northern Sinai. But the Morsi government's alternative, he said, amounts to "completely giving up on Sinai and basically acknowledging that it lost control."
Meanwhile, Israelis monitoring Egypt's response "are not impressed," said Brig. Gen. Shlomo Brom, a fellow at Tel Aviv University's Institute for National Security Studies, and a former military strategic planner. "The impression is that the purpose of the operation is to create a perception that something is happening, but nothing more than that."
The Egyptian military and police didn't comment. The military would need more time to rein in Sinai's militancy, said Mohammed Kadry Said, a retired general and a security expert at the government-funded Al Ahram Center for Political and Strategic Studies. After all, it took the better part of a decade, he said, to gain control after a violent Islamist uprising in Upper Egypt during the 1990s.
Some tunnel operators in Gaza say lifting Israel's siege may curtail the underground arms trade by pushing ordinary products above ground and isolating traffic in dangerous weapons. Egypt is currently involved in talks for a free-trade zone along its border with the Gaza Strip that tunnel operators like Ali worry will end their livelihoods.
According to a former Palestinian tunnel owner named Hussein, Egyptian security officials tried to block his tunnel entrance by filling it with sand a few months ago. After a month's work, his team uncovered the tunnel entrance.
"They weren't serious—it was just to make everyone think the tunnel problem was under control," Hussein said of the Egyptians.