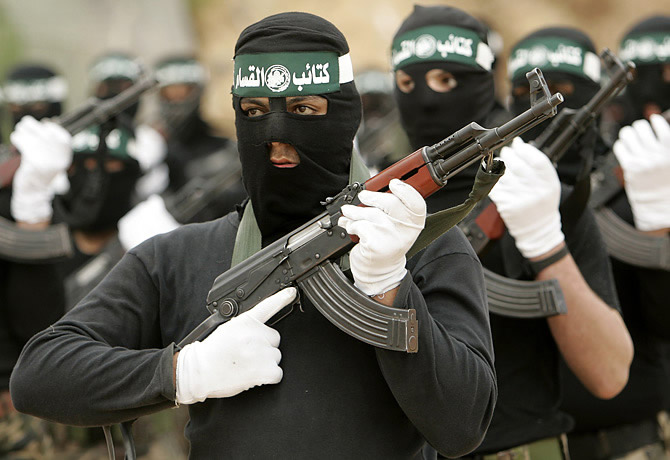 Within a week of President Obama's re-election, the Middle East has erupted in deadly violence. It began on November 14 when Israel killed Ahmed Al-Jaabari, the head of Hamas military wing, in a targeted air strike in Gaza.
Gaza has been under Israeli blockade since the Israeli ground offensive in December 2008. Eighty percent of Gaza's 1.7 million people, squeezed into 360 sq km, are dependent on international assistance for survival.
Israeli strategy was to strangulate Gaza militants from getting arms and ammunitions clandestinely. The blockade did make Gazan poorer and impoverished, but did not stop the militants from developing and acquiring sophisticated rockets. These "Qassam" rockets have been fired by Hamas affiliated militant groups into Israel without causing any serious damage. Israel held Ahmed Al-Jaabari responsible for those attacks.
Hamas reacted to the killing saying it had "opened the gates of hell." Barrages of rockets, some reaching Tel Aviv, started pouring into Israel from Gaza. Israel then launched Operation Pillar of Defense and started deadly air strikes on Gaza while gearing up for ground offensive.
As the situation got worse, Israeli President Shimon Peres telephoned President Obama, requesting him to pressurise President Morsi of Egypt for a truce. Although Israel threatened ground assault, it withheld the offensive fearing catastrophic repercussions of the "Arab Spring." Clearly Israel's strategic supremacy in the region has altered.
The US and the UN got into the picture, urging restraint and de-escalation of the violence. President Obama spoke to President Morsi several times from Cambodia, where he was on the final leg of his Asian tour. Secretary of State Hillary Clinton, traveling with the president, was rushed to the region to talk to Israeli Prime Minister Benjamin Netanyahu, Palestinian President Mahmoud Abbas and Egyptian President Mohamed Morsi.
After intense negotiations President Morsi brokered a deal with the representatives from Israel and Hamas in Cairo. Egyptian Foreign Minister Mohamed Kamel Amr and Secretary of State Hillary Clinton announced the ceasefire in Cairo. The ceasefire came into effect from 1900 hours (GMT) on November 21.
By then, the 8-day bombardment by Israel and rocket attacks by Hamas had left 162 Palestinians including 37 children, and 5 Israelis dead. More than 1,000 Palestinians have been left seriously injured and Gaza infrastructure destroyed.
The terms of the ceasefire are not very clear. Netanyahu said he supported the ceasefire to calm the situation, but promised "more severe military action" if rocket attacks from Gaza resumes. Israel boasted of war gains including the assassination of Al-Jaabari, striking 1500 targets in Gaza and crippling Hamas rocket batteries.
Hamas also claimed victory. Hamas leader Khaled Meshal said: "Their aim was to deter us. The resistance showed them that this deterrence has failed. Israel has failed in all its goals." Indeed, Israel had to recognise that Hamas was a potent force with ability to strike Tel Aviv. Hamas has got the pledge from Israel that the blockade will be lifted. Despite all the destruction and deaths, Hamas seems to have come out of the conflict much stronger. The public sentiment in Libya, Tunisia, Egypt, Lebanon, and elsewhere in the Arab world, is pro-Hamas, and anti-Israel.
The credit for brokering the ceasefire goes to President Morsi. Despite his Muslim Brotherhood background, anti-Israel sentiment in Egypt, which is sympathetic towards Hamas, and an uneasy relationship with Israel, he succeeded in getting a working relationship going with President Obama. Ever since Morsi came to power, Washington has been nervous on how to deal with the Muslim Brotherhood leader.
Despite the ceasefire, distrust and hatred between the Israelis and Hamas is at its height. Clearly, the ceasefire is not the solution to this six-decade old conflict. In the past also, ceasefires were agreed and broken. The real solution to this conflict lies in granting the Palestinians their legitimate right -- their homeland.
Israel remains the kingpin of US policy in the Middle East. The advent of Muslim Brotherhood in Egypt, Libya, Tunisia and their growing influence in other Arab states has made Israel less secure than it was two years ago. Israel has to understand that Hamas does not pose security problems. Hamas is a political problem -- and this cannot be solved militarily or through repeated ceasefires.
The crux of the problem is Israeli occupation of Palestinian homeland. Palestinians see Israel as the aggressor, but Israel continues to expand its occupation through new settlements.
Hamas believes it is a resistance force and has the moral right to resist Israel through armed struggle. The US State Department has listed Hamas as a terrorist organisation as it does not recognise Israel's right to exist. Thus, there is no question of inviting Hamas to the negotiating table though it is the missing piece in the puzzle for peaceful settlement.
What is amazing is the distortion in the Western media in reporting the events of the conflict. CNN, BBC and others completely ignored the history of the conflict and the number of UN resolutions Israel has flouted since 1947. The continuous repetition that "Israel has the right to defend itself" from Palestinian violence is a travesty. The constant portrayal that Israeli citizens are "humans" and Palestinians are "terrorists" (thus not human) is the unfortunate refrain of the Western media.
Cunning Netanyahu has tested Obama's resolve to protect Israel by launching this sudden attack and killing Ahmed Al-Jaabari, knowing fully well it will create a crisis in the Middle East. Israel goes to election in January 2013. Clearly, Netanyahu gambled to raise his rightwing Likud party's prospects by attacking Hamas.
The current conflict has left the moderate Fatah group led by Mahmoud Abbas marginalised. Over the past twelve years there has been no progress in the peace process. Bush's eight years on "Middle East Road Map" has met a dead end, The Middle East Quartet has died a natural death. Four years have gone by since Obama promised the "two state solution." It remains a distant dream.
President Obama needs to acknowledge the strategic shift in the balance of power in the Middle East and concentrate his energies to resolve this issue without any delay. He should bring President Morsi, leaders of Hamas and Fatah, and Prime Minister Netanyahu to the negotiating table as quickly as possible to establish the Palestinian state. It will be a serious test of his diplomatic skills and vision.