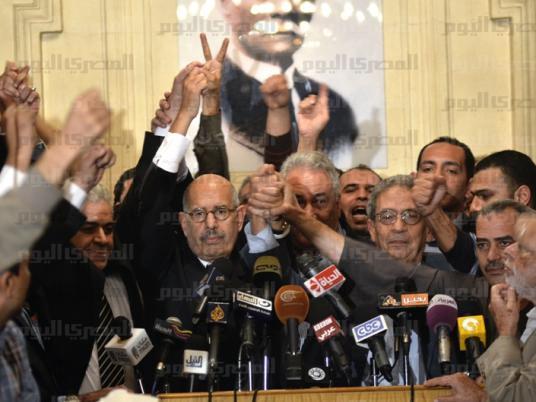 For almost two years, civil and secular groups were constantly blamed for being disunited and unorganized, paving the way for Islamists to rise to power after Hosni Mubarak's ouster.
That changed this week as opposition leaders, former presidential candidates, secular liberal and leftist parties, and even some figures previously labeled as feloul — or remnants of the former regime — united against President Mohamed Morsy's constitutional declaration, through which he claimed sweeping powers for himself, and formed the National Salvation Front.
Since Thursday's controversial declaration was issued, these groups mobilized to return to the squares of Egypt and revive street politics as a means to challenge Morsy's move. As Egypt Independent went to press Tuesday night, thousands converged into Tahrir Square in what was described as a triumph by secular groups to self-organize and mobilize, tributes usually more associated with the Muslim Brotherhood.
The controversial constitutional declaration announced on 22 November gives Morsy vast powers, rendering his decrees and laws immune from appeal or cancellation, and protecting the Constituent Assembly and the Shura Council from dissolution. The constitution-writing assembly has been one of the most recent battlefields where non-Islamists criticized their exclusion from the political process, amid Islamists' hegemony over it.
While the fortified alliance has included controversial figures and groups associated with the old regime, there are questions about its sustainability. The agreement, however, is over the unacceptability of excluding the pro-democracy bloc from the political process.
Solid alliance, but for how long?
More than 20 secular groups joined the front, including the Constitution, Popular Current, Wafd, Tagammu, Democratic Front and Free Egyptians parties, as well as the Coptic Maspero Youth Union, the April 6 Youth Movement, the Revolutionary Youth Union and the No to Military Trials campaign.
Representatives of the different political powers recognize their differing ideologies, but when it comes to standing against a "dictator like Morsy"— a phrase used liberally this week — they find common ground.
Amr Moussa, former Arab league chief and head of the Conference Party, which is still being formed, also joined the National Salvation Front.
"During the 25 January revolution, we all stood together in Tahrir Square against [ousted President Hosni] Mubarak: Muslims, liberals, leftists and Copts," Hussein Abdel Ghany, media coordinator of the National Salvation Front, says. "We are one when it comes to calling for freedom."
Yasser al-Hawary, media coordinator of the Constitution Party, says, "This isn't the time to be caught up in and separated by ideologies and principles. We unite to protect the nation from dictatorship."
Amr Hashem Rabei, political analyst at Al-Ahram Center for Political and Strategic Studies, explains that as long as these powers face the threat of Morsy and the Brotherhood from which he hails dominating all executive and legislative authorities, they will stand united.
"Once the threat is gone, the unity and coalition will evaporate as well," Rabei tells Egypt Independent.
Meanwhile, when it came to holding sit-ins against the interim rule of the Supreme Council of the Armed Forces following the toppling of Mubarak, secular powers were usually divided over opposing to military rule.
Sit-ins were at those times pushed for, organized and maintained by groups of activists, but as numbers dwindled, they were often left vulnerable to violent dispersals by security forces.
With Brotherhood rule, things have changed.
In a rare incident, secular groups agreed to hold an open sit-in in Tahrir Square starting Friday and lasting until their demands are met.
The remnants complex
Last Friday, Egyptians watched in some wonder as Popular Current leader and former presidential candidate Hamdeen Sabbahi, Constitution Party founder and reform leader Mohamed ElBaradei, and Moussa marched hand-in-hand to Tahrir. Some were quite uncomfortable with Moussa's presence.
But in the dynamic and ever-changing landscape with its labels and definitions, Moussa, once Mubarak's foreign minister, is not considered by many as "hardcore feloul." After the 25 January revolt, he worked intensely to reinvent his image, especially during the presidential campaign.
Abdel Ghany stresses that the National Salvation Front has no supporters of the former regime, not even parties that are considered offshoots of the National Democratic Party, who would compromise the coalition's legitimacy and integrity.
But Abdel Moneim Abouel Fotouh, former Brotherhood leader, presidential candidate and head of the Strong Egypt Party, refused to join the front, stating that he would never join forces with feloul — referring to Moussa.
He and Moussa's race over the presidential seat turned sour, with both sides trading insults and accusations.
The Strong Egypt Party said in a statement that it approved of the articles in the constitutional declaration that dismissed Prosecutor General Abdel Meguid Mahmoud, known to be loyal to the former regime, in addition to the article guaranteeing the retrials and investigations of those involved in killing and injuring peaceful protesters during the 25 January revolution.
The party, however, did reject the rest of the declaration, and said it would participate in protests calling for the annulment of these articles.
"Talk about feloul is meaningless," says Akram Ismail, activist and member of the Socialist Popular Alliance Party. "The movement is being led by the democratic forces, and today thousands have chanted only revolutionary slogans. The battle now is between the oppressive Islamist alliance and the ascending democratic force — an indispensible, historic and bitter battle."
Successful pressure
Many think the front has managed to exert some pressure with mass protests demanding that Morsy retract the constitutional declaration, dissolve the Islamist-dominated Constituent Assembly, dismiss the interior minister and undertake security sector reform.
Morsy, as well as Brotherhood leaders, attempted to initiate dialogue with secular powers, but they refused to talk with the president until a complete retraction of the "flagrant" constitutional declaration was made.
Seeing the prowess of secular groups' mobilization, the Brotherhood canceled its planned Cairo protest in support of Morsy late Monday. The protest was supposed to take place near Cairo University Tuesday in parallel with the anti-Morsy protests.
Meanwhile, there were clashes outside Cairo between supporters and opponents of Morsy following the declaration, most fiercely in Damanhour, where 15-year-old Islam Fathy Massoud was killed Sunday. In Mahalla, scores were injured in clashes.
Three people have died in a weeklong faceoff between protesters and Central Security Forces in a street just off Tahrir Square, which began before the declaration but intensified after. State radio reported Tuesday that more than 440 people have been injured as a result of the sporadic outbursts of violence.
The Popular Current issued a statement Tuesday calling for maintaining peaceful protests. The statement held Morsy responsible for the violence that occurred, and warned that if it continued, Egypt could fall into a "civil war."
The violence, meanwhile, did not mask what was believed to be a score by non-Islamist groups.
"Today, pro-democracy forces proclaimed themselves as one of the most important forces in the current post-revolutionary political juncture," says Ismail. "There is no alternative to reaching an accord with them on the attributes of the new political order. This is a force that struggled to exist, despite all attempts to deny its existence."