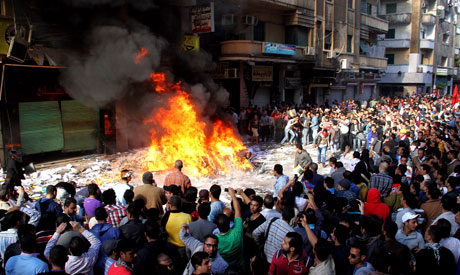 The Brotherhood will participate in mass marches on Tuesday with hardline Gamaa Al-Islamiya and Salafist Call, confirmed Anas El Qady, official spokesman of Brotherhood in Alexandria on Monday evening as thousands of Gamaa Al-Islamiya members gathered in support of President Morsi's controversial constitutional declaration.
Opposition parties and organisations called for mass rallies and million-man marches on Tuesday in protest over the consitutional declaration, which they decry puts Morsi and Islamist-led parliament and Constituent Assembly out of judicial reach.
The group, which had announced alternative rallies across the country in support of the president's decrees, later said they would postpone them to a later date, in order to avoid possible clashes with opponents of the decree. Yet, in a further about-face, the Brotherhood's Alexandria spokesman said they would in fact march in Alexandria, Egypt's second largest city, which on Friday witnessed anti-Morsi demonstrators breaking into the headquarters of the Brotherhood's political arm, the Freedom and Justice Party, and ransacking it.
Protesters have been demonstrating and clashing with police in and around Tahrir Square since Friday - one day after the president made the decree.