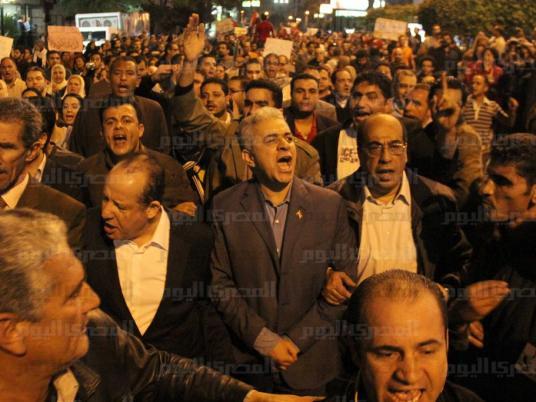 Political and revolutionary forces have called for mass demonstrations in Cairo's Tahrir Square and squares in other governorates on Friday under the title "Revoke or Leave," demanding that President Mohamed Morsy rescind his 22 November constitutional declaration.
Marches would start after the Friday prayer from main mosques to squares in each city to protest the declaration that exempts Morsy's decisions from judicial supervision and prohibits the disbandment of the Constituent Assembly and the Shura Council.
The Popular Current, founded by former presidential candidate Hamdeen Sabbahi, called on all citizens to rally in Tahrir Square in protest against "attempts to abort the revolution and empower tyranny."
The movement also said in a statement that peaceful sit-ins would continue until the martyrs' dreams of freedom, social justice and human dignity are realized, retribution is achieved for them, and a constitution that reflects the revolution and its objectives is drafted.
It added that it would discuss with all political parties and movements methods of peaceful escalation if the legitimate demands of the Egyptian people are not met.
"The revolution is revitalizing and regaining momentum for an Egypt for all Egyptians, not for a certain group or party," the statement said, warning the president of circumventing the cancellation of the declaration by holding a referendum on it.
Khaled Talima, a member of the Popular Current's executive office, said the "million-man" demonstration could march to the Shura Council and the presidential palace if the demands are not met. He also called for forming another Constituent Assembly that represents all spectrums of Egyptian society.
The Free Front for Peaceful Change said that the civil forces are battling against all political Islamists, not just the Muslim Brotherhood, and that the conflict has reached the stage of "to be or not to be," meaning that "either a civil state that respects freedoms, or a clerical state that respects only the clergy" would be established.
In a press statement issued Thursday, the front called on the president to save Egypt from division and from the specter of civil war.