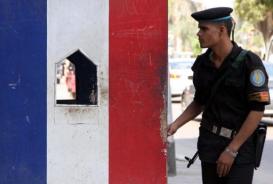 French schools and cultural centres in Egypt will close on Thursday as a precautionary measure after the publication in France of cartoons mocking the Prophet Mohammed, the consulate said.
"Although there has been no specific threat in Egypt, it has been decided as a precaution and as in other countries, to close French schools and cultural centres in Egypt on Thursday September 20," it said in a statement.
"The French embassy has also asked Egyptian authorities to continue to ensure the security of all our establishments in the country, by virtue of international conventions," the consulate said.
The new controversy triggered by the pictures in satirical French magazine Charlie Hebdo of a naked Prophet Mohammed comes as tempers are already running high over an anti-Islam film made in California and posted on the Internet, with at least 30 people killed in unrest.
The French establishments are due to reopen on Sunday, after the Egyptian weekend on Friday and Saturday. The French embassy will remain open on Thursday.
Earlier, France said it will close its embassies and schools in around 20 countries Friday because of fears of a hostile reaction to the magazine's publication of the cartoons.
Demonstrations in the Islamic world often follow Friday prayers.
French Foreign Minister Laurent Fabius announced that he had ordered special security measures "in all the countries where this could pose a problem."