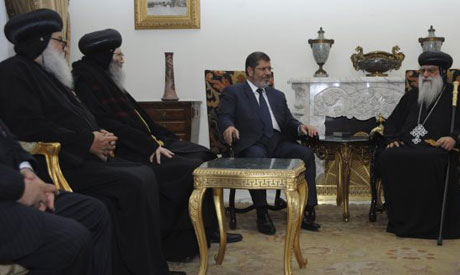 US Secretary of State Hillary Clinton will be the first foreign official to visit Egypt's President-elect Mohamed Morsi, sources at Cairo International Airport told the Al-Ahram Arabic language news website Wednesday.
The sources said Clinton, along with other US officials, would discuss the future of US-Egyptian relations, the Egyptian-Israeli peace treaty, and urge respect for the socio-religious rights of Coptic Christians under Islamist rule.
Muslim Brotherhood candidate Mohamed Morsi beat Mubarak's last premier Ahmed Shafiq in the election runoff on 16-17 June to become Egypt's first democratically elected president.
President Barack Obama on Sunday called Morsi to congratulate him on his victory and offer continued US support for Egypt's transition to democracy.
Obama "emphasised his interest in working together with Morsi, on the basis of mutual respect, to advance the many shared interests between Egypt and the United States," the White House said.
"Morsi expressed appreciation for Obama's call and welcomed US support for Egypt's transition," the White House said in a press release. Obama and Morsi also agreed to stay in close touch in the coming weeks and months.
"We congratulate the Egyptian people for this milestone in their transition to democracy," White House spokesman Jay Carney said in a statement, calling on the new leader to ensure Egypt remains "a pillar of regional peace, security and stability."
"We believe that it is important for President-elect Morsi to take steps at this historic time to advance national unity by reaching out to all parties and constituencies in consultations about the formation of a new government," Carney said. He stressed the need for respect of the rights of all Egyptians, including women and religious minorities like Coptic Christians.
In his first televised speech, Morsi said Sunday he carries "a message of peace" to the world and pledged to preserve Egypt's international accords, a reference to the peace deal with Israel.
Sen. John Kerry, chairman of the Senate Foreign Relations Committee, told the Associated Press that the US should embrace the election outcome even if the Muslim Brotherhood's past positions are a cause for concern.
"It would be a mistake for us to pull back from our engagement with a free and democratic Egypt," said Kerry."This is a time to test intentions, not to prejudge them."
Kerry said that in recent conversations with Morsi, the new president-elect said he was committed to protecting basic freedoms, including the rights of women and minorities and the right to free expression and assembly.
"He said he understood the importance of Egypt's post-revolutionary relationships with America and Israel," Kerry said.
Anthony Cordesman, a Middle East expert at the Centre for Strategic and International Studies, added that uncertainty over Egypt's relations with the US and other key countries is likely to persist for several years.
"In the near term, it seems unlikely that the election will have a major impact on US and Egyptian relations," he said. "The Egyptian military remains too strong, there is no legislature, and the new Muslim Brotherhood president will concentrate on domestic issues."
However, Cordesman added, "The midterm is far more uncertain and the long term is totally unpredictable."