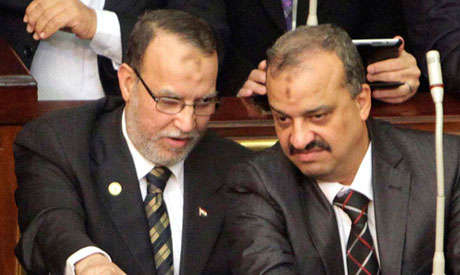 Muslim Brotherhood leader and MP, Mohamed El-Beltagi, filed a complaint to the prosecutor-general's office on Wednesday against presidential candidate Ahmed Shafiq in which he accused the latter of slander and triggering false accusations against the Islamic group, a step that is expected to aggravate the already tense relationship between the two sides.
Shafiq and the Brotherhood have been at each other's throats after Mubarak's last premier reached the presidential elections' runoff vote – slated for 16 and 17 June. He will be up against Mohamed Mursi, the Brotherhood's presidential contender and the head of the Freedom and Justice Party (FJP), the political wing of the group.
For the past few weeks, Shafiq has been lambasting the Brotherhood and their presidential bidder, saying that with the Brotherhood in power, Egypt would suffer from the implementation of strict Sharia law that would affect all aspects of daily life, including the political and financial state of the country.
The Brotherhood, on the other hand, have been striking back at the former air force chief, saying he was part of the infamous Mubarak regime and is responsible for some of the numerous crimes that were committed during this period.
After filing the complaint against Shafiq, El-Beltagi echoed the same sentiments as he was dogged by many reporters outside the office of the prosecutor-general, Abdel-Meguid Mahmoud, at the High Court building in downtown Cairo.
While standing next to renowned preacher Safwat Hegazi, El-Beltagi said: "The lies of Ahmed Shafiq are threatening our lives in many ways, and that's what we told the prosecutor-general.
"We will keep attacking him, we are never going to stop … He is responsible for many crimes; the money of the former regime figures was smuggled outside the country while he was the prime minister. The Battle of the Camel [which saw hundreds of protesters killed and injured in Tahrir Square during last year's uprising] is also his responsibility."
El-Beltagi's report against Shafiq came after the latter said at a news conference that "the Brotherhood represents darkness and sectarianism" and would take Egypt backwards. In a later interview with CBC TV, he further attacked the group. The verbal jousting is expected to last till the presidential runoffs.