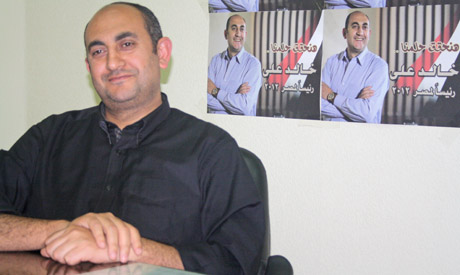 Leftist presidential candidate and human rights lawyer Khaled Ali defended his "unconventional" political stances and his background in popular street action in a televised interview with privately-owned Dream TV, Tuesday.
Speaking on "10 PM" with host Mona El-Shazli, Ali explained that political action is not only about working within parliament, ministries and other official institutions: "I have a large experience in popular street movements," he said.
Ali also refuted claims that being the youngest candidate in the elections is a hindrance, stating that age should not be determinant at all.
Questioned by El-Shazli on his contradictory and sometimes "confusing" political positions, Ali emphasised that his stances are a matter of principle, of what is legally right and wrong, as opposed to what his personal opinions are.
The comments came in reference to Ali's decision to support banned presidential hopefuls Hazem Salah Abu-Ismail, Khairat El-Shater and Ayman Nour, despite Ali being a leftist presidential candidate.
"I tend to go for unconventional issues and I take the risk," underlined Ali.
In a guest call to the show, renowned writer Ibrahim Abdel-Meguid explained why he supports Ali. "This revolution was not made by the Muslim Brotherhood nor the Salafists but was rather a movement that started years ago, which Khaled has been a key participant in," Abdel-Meguid stated.
This came on the same day that Ali's campaign revealed a list of around 20 well-known public figures that officially endorse his presidential bid.
Ali concluded by stating that Egyptians want to feel that the country has progressed and that that will only come with reform of Egypt's economic system.
"Egyptians will wait six months at the most and demand a removal of the upcoming president if they do not feel a change," Ali added.
"We can see the shift in public opinion towards the Muslim Brotherhood since becoming a parliamentarian majority, as they have yet to instil change in the country."
Meanwhile, Ali on Wednesday continued his campaign trial, visiting the Upper Egyptian city of Aswan.
A prominent lawyer and activist, Ali has made a name for himself over the last two decades promoting social justice and defending the rights of workers, peasants and students.
Ali announced his intention to run for president in March. His campaign emphasises the need to realise the outstanding goals of the revolution, including achieving social equity, redistributing wealth and guaranteeing civil liberties.
Presidential elections will take place 23-24 May with a runoff vote slated for 16-17 June in the event that no single candidate wins an outright majority. Egypt's new president will be formally named 21 June.