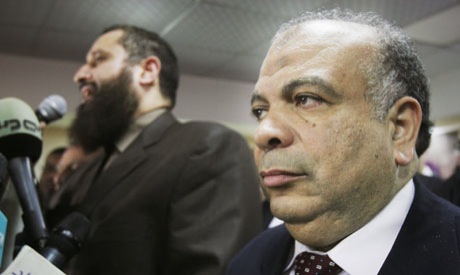 Parliament Speaker Saad El-Katatni adjourned Wednesday's session of the People's Assembly (the lower house of Egypt's parliament) by announcing that all assembly activities would be temporarily suspended until 26 May, two days after Egypt's first post-Mubarak presidential polls.
In a related development in Wednesday's session, Nour Party MP Mohamed Gaafar asked to withdraw a proposal he had tabled earlier for the restructuring of Egypt's Supreme Constitutional Court in a way critics say gives parliament greater control over the court's affairs.
Last month, the court withdrew its representatives from Egypt's constituent assembly – members of which were elected by Parliament in March to draft a new constitution – after the Muslim Brotherhood, which had dominated the assembly, accused the court of being beholden to Egypt's ruling military council.
On Tuesday, Parliament's suggestions and complaints committee endorsed draft amendments to the law governing how the court functions. The proposed amendments were tabled by two MPs from the Salafist Nour Party and supported by representatives of the Muslim Brotherhood's Freedom and Justice Party. The draft amendments currently await discussion by Parliament's legislative committee.
The proposed amendments would give Parliament the authority to overturn rulings issued by the constitutional court, including any future court decision to suspend –or dissolve –parliament. The draft amendments also call for the court's restructuring, including the ouster of all its current judges, as soon as the amendments are brought into effect.
A meeting between El-Katatni and parliament's legislative committee had been scheduled for Wednesday evening to discuss proposals on how members of Egypt's constituent assembly should be selected. In light of the latest developments, however, it remains unclear whether or not El-Katatni will attend the meeting.