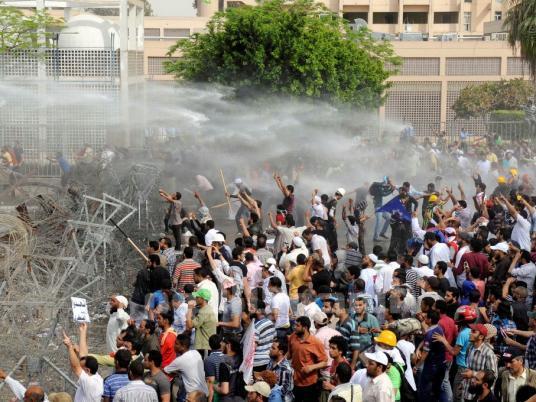 Mamdouh al-Wali, head of the Journalists Syndicate, called on the ruling Supreme Council of Armed Forces to immediately release the journalists and media personnel who had been arrested during the clashes that took place on Friday in Abbasseya between military police and protesters.
Wali said in a phone call with Al Jazeera Mubasher Misr that the board of the syndicate would hold an emergency session Sunday to take a decisive position on the attacks, assaults and random arrests of journalists and reporters on Friday.
Wali added that the syndicate did not know the exact number of media personnel in detention after the Abbasseya clashes.
The syndicate will organize sessions to listen to eyewitness journalists and reporters who were at the scene and were arrested and detained in military prisons in order to determine the reasons for their arrests.
On Friday, military police have broken up a sit-in in Abbasseya Square near the Defense Ministry by force using automatic weapons, tear gas and water cannons. Hundreds of people were injured in the ensuing violence, and hundreds of protesters and journalists were detained.
The Committee to Protect Journalists said on Friday that at least 18 journalists have been assaulted, injured, or arrested since Wednesday while covering the protests at the Defense Ministry.
The Journalists Syndicate announced Friday evening that Al-Masry Al-Youm photographer Mohamed al-Shamy and Al-Watan photographer Mohamed Omar were injured, and that Ahmed Ramadan and Islam Aboul Ezz from Al-Badeel and Abdel Rahman Meshref from Al-Watan were missing.
Virginie Nyugen, a Belgian photojournalist for Egypt Independent, was injured then detained for questioning while covering the clashes on Friday. She was released after several hours.